SHR
Larimer County Sheriff's Office
Victim Response Team Fundraiser
The Victim Response Team will be selling challenge coins as a fundraiser throughout October. You can support them between 10 a.m. and 4 p.m. at the following locations:
Larimer County Courthouse (200 W. Oak St., Ft. Collins) - October 5th and 21st
Larimer County Justice Center (201 Laporte Ave., Ft. Collins) - October 7th and 19th
Loveland County Court (801 E. 10th St., Loveland) - October 14th and 26th
Larimer County Loveland Campus (200 Peridot Ave., Loveland) - October 16th and 28th
The team will also be at Vern's (4120 W CR 54G, Laporte) on Sunday, October 11th from 9 a.m. until 8 p.m.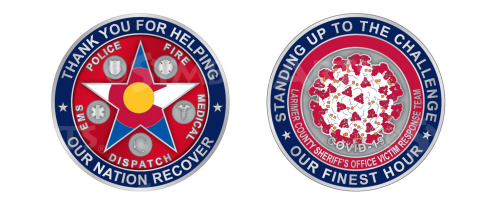 Coins are $15 each, 2 for $25, or 5 for $50
If you would like to buy coins but can't make it in person, email sheriff-victims-response@co.larimer.co.us to place an order!