SHR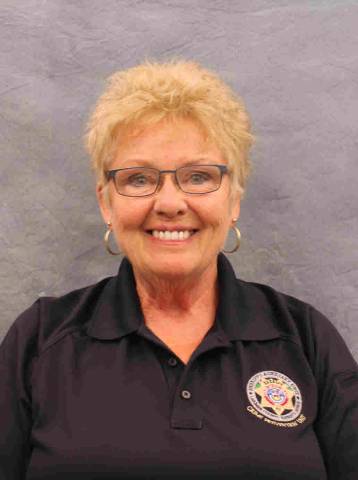 Meet Barbara, LCSO's Chief ScamBuster
Who are you going to call if you get a call from someone wanting your hard earned money? Why, ScamBusters, that's who.
All joking aside, over my last 13 years with LCSO, scams and frauds have become part of our everyday lives. My passion for being a huge pain in the ankle to criminals and scammers works well in my role as the coordinator of our Sheriff's Auxiliary/Crime Prevention Unit. I love sharing ways that our citizens can become more in charge of their safety by knowing what is suspicious and what to do with that knowledge. As scammers have become more sophisticated in targeting their prey and using human behavior techniques to make you think they are credible, we have to become more street smart and beat them at their own game. We do that by recognizing their tactics and learning how to build a safety wall around our personal information and finances. Knowledge is power - and it is easier to prevent scammers from taking advantage of our inherent trust in people than to try recovering after they have taken our hard earned money. These criminal scammers can only be stopped by being aware that they are out there, understanding how they work, and being smarter than they are. This website has been established to provide information on what the scams are, how to recognize a scammer and how to be smarter than the scammer. If they can't get our money - they have to give up. Let's stop them in their tracks. Let's all be ScamBusters!
Barbara EJ Bennett
970-682-0597
bennetbe@co.larimer.co.us
Coordinator - Sheriff's Auxiliary/Crime Prevention Unit
Larimer County Sheriff's Office
P.S. If your group would like a scam presentation, give us a call or email to set it up. We love spreading the word! Also, feel free to send out this link to friends and family!
---
If you have fallen victim to a scammer, remember these 5 important steps:
Do not communicate further with the scammers/perpetrators. They are criminals and some are dangerous. Never offer to travel to meet them to claim your money or prize.
Contact your bank. If you think you are a victim of identity theft or account fraud you need to call your bank immediately and tell them what happened. The bank should have a fraud department and you can ask them to monitor your account for unusual activity. You can also ask them if it is necessary for you to close out your current accounts and open new ones. You can also refer to our Identity Theft Prevention page for more information.
Contact the fraud departments of the three major credit bureaus. Place a fraud alert on your credit files. This will require credit agencies to contact you before opening any new accounts or making changes to your current accounts.

Equifax - 1-888-766-0008
Experian - 1-800-525-6285
Transunion - 1-800-680-7289

File a Police Report. Call your local law enforcement agency to report the fraud/scam. Ask how to get a copy of the report to submit to your bank, credit agencies and other financial institutions who may need proof that a crime was committed.
Remember: Keep a typed or written log of all conversations you have with the scammers, your bank, the credit agencies, and law enforcement. Include the date and time of when you had a conversation, who you spoke with (person's name and extension number if applicable), the phone number you contacted and the information you provided.