Larimer County to Restore Poudre River at River Bluffs Open Space
LOVELAND, Colo. – Larimer County is restoring a stretch of the Cache la Poudre River at River Bluffs Open Space starting in January of 2019.
Restoration work is needed to make the river and its floodplain more resilient during flooding and ensure it provides healthy habitat for fish and wildlife.
River Bluffs Open Space, located between Timnath and Windsor, is a popular place to go biking on the Poudre River Trail, birding, picnicking and exploring the river. No trail or trailhead closures are expected during the restoration project, which should take 10-12 weeks to complete.
In the 1950s, the Poudre River was channelized on the property that is now River Bluffs Open Space to protect the downstream bridge over Hwy. 392. This project strikes a balance between protecting existing infrastructure while ensuring a healthy river for fish and wildlife.
The restoration project will take place along a 3/4-mile stretch of the river and include:
Removing large berms to reconnect the river to its floodplain and natural overflow channels
Installing instream structures to create habitat for fish and other wildlife
Creating a wetland area on the west side of the river by filling an existing manmade pond
Planting willow, cottonwood, sedges, grasses and other native plants
Removing debris, such as concrete, from flooding and prior attempts at erosion control along riverbanks
Replacing a barbed-wire fence with wildlife-friendly fencing
The project is estimated to cost $1.67 million. Grants of $1.3 million from the Colorado Department of Local Affairs, $154,000 from Colorado Parks and Wildlife, and $100,000 from Great Outdoors Colorado will cover much of the cost, with Larimer County making up the difference.
The Colorado Department of Transportation has been a consultant and active partner on the project to ensure public safety and protection of the bridge over Hwy. 392.
For more info on the project, please contact Natural Resource Specialist Zac Wiebe at (970) 619-4534 or zwiebe@larimer.org.
View the project map with locations of planned improvements.
Photo of River Bluffs Open Space by Brendan Bombaci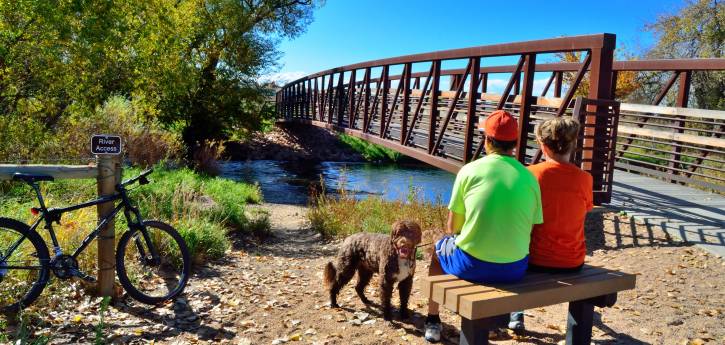 Published on:
Tuesday, January 8, 2019 - 2:03pm
Zac Wiebe, Natural Resource Specialist, (970) 619-4534
Natural Resources