Larimer County elected officials sworn in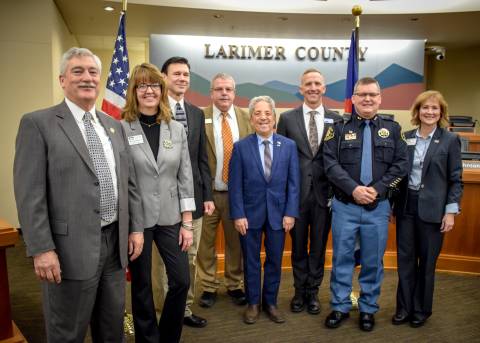 Larimer County elected officials sworn-in
Six Larimer County elected officials took the oath of office today at a swearing-in ceremony in the Larimer County Courthouse Offices Building Hearing Room.
Larimer County Eighth Judicial District Judge Stephen E. Howard swore each elected official into office.
Larimer County Treasurer Irene Josey was officially sworn-in on January 2, 2019, as required by Colorado state statute by Eighth Judicial District Judge Stephen Howard.
Elected officials that were sworn today include Bob Overbeck, Larimer County Assessor; Angela Myers, Larimer County Clerk and Recorder; John Kefalas, County Commissioner District 1; James A. Wilkerson, Larimer County Coroner;  Justin Smith, Larimer County Sheriff; and Chad R. Washburn, Larimer County Surveyor.