Self Service Renewal Kiosk
Citizens of Larimer County have one more way to renew their license plates.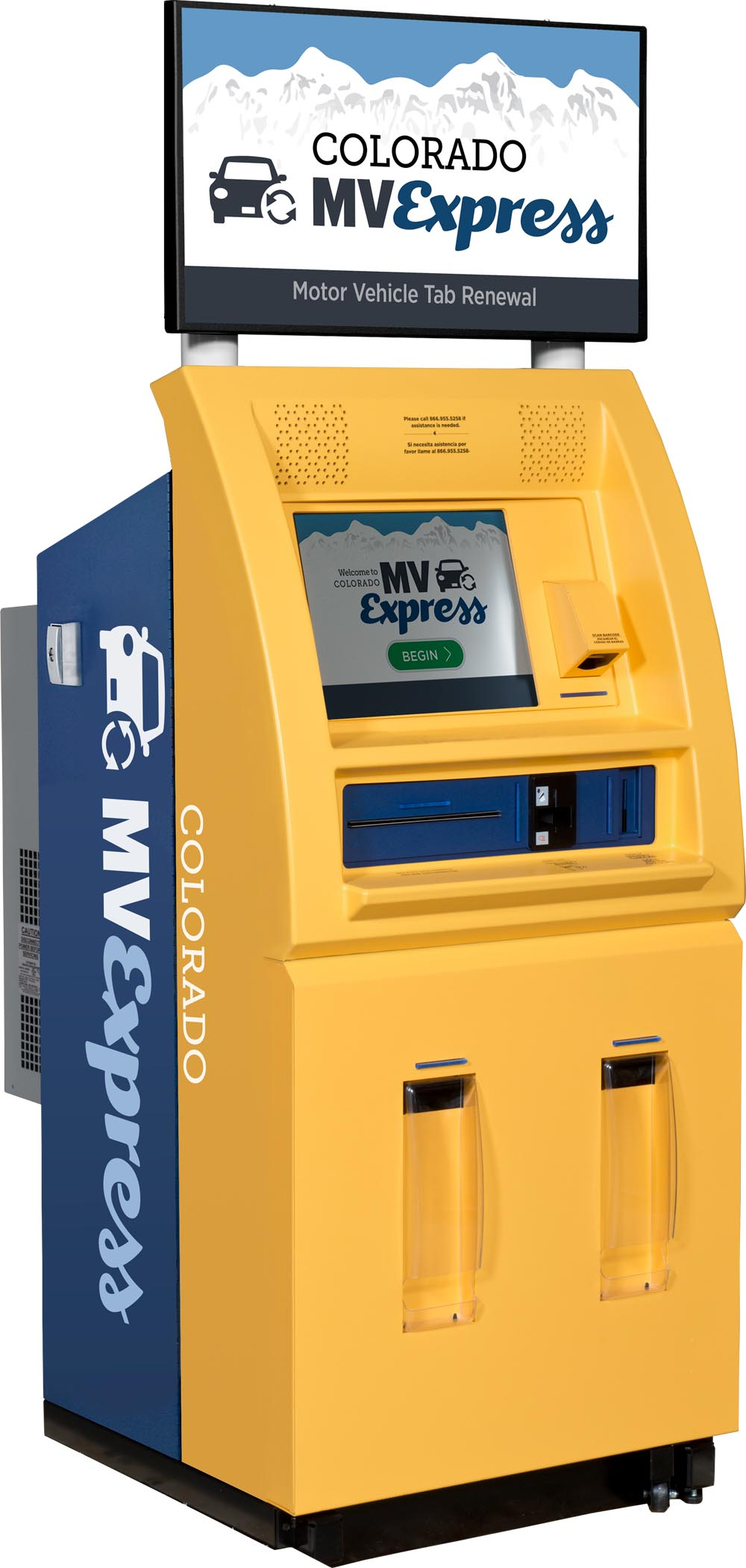 Residents can now take advantage of Colorado's new Self-Service Renewal Kiosk for a fast and convenient alternative when completing a vehicle registration renewal.
Vehicle Renewal Requirements
Your vehicle(s) must be registered in a participating county (Adams, Arapahoe, Boulder, Broomfield, Douglas, El Paso, Fremont, Jefferson, La Plata, Larimer, Mesa or Weld). See available locations below. 
Your address must be correct on your renewal notice. 
You must have proof of liability insurance on file.
You must have a valid Vehicle Emission Inspection on file (if applicable).
If you meet all the requirements shown above, you may renew your vehicle registration at a kiosk. 
Transaction Processing Time
The average transaction takes less than two minutes. After a successful renewal, a new registration document and license plate decals print immediately.  
Payment Options
Accepted payment options include credit or debit cards and personal checks.
Larimer County Locations
King Soopers - 1842 N College, Fort Collins

King Soopers - 1275 Eagle Drive, Loveland
Visit Colorado MV Express for kiosk locations in other participating Colorado counties.
FAQs
Simply scan the barcode on your vehicle registration renewal postcard. If you don't have the postcard, you can still renew using your license plate and VIN numbers. Follow the instructions to review your vehicle record, and pay taxes and fees. The machine will print your receipt, registration and tabs on the spot. Just grab your documents and go!

You can renew at a kiosk anytime during your renewal cycle or after the renewal month and your one-month grace period have passed! (However, please note that, by law, a late fee of $25 per month and back ownership taxes will be assessed if you renew after your grace period has expired.)

You can use the kiosk to renew a passenger vehicle, pickup truck, motorcycle, or trailers. It will NOT renew a collector, commercial fleet, dealer, government or taxi/livery vehicle, tow truck, or any disabled veteran specialty license plates.

You can renew at a kiosk immediately after completing a gasoline emissions test. Please wait at least two (2) business days after getting a diesel emissions test to renew at the kiosk. This allows time for the machine to be updated electronically by testing facilities. The kiosk cannot accept paper proof. Your renewal postcard will indicate if you need a new emission test. See the emissions information page for more details. 

Please wait 2-4 days after updating your auto insurance to renew at the kiosk. This allows time for your insurance company to provide updated information to our statewide vehicle registration system. The kiosk cannot accept paper proof. Your renewal postcard will indicate if you need proof of insurance. If you have not made recent changes to your insurance coverage, please contact our office at (970) 498-7878, option 5.

 Check, credit or debit card are accepted. Only one method of payment is allowed per transaction. There is a $3.95 service fee for every vehicle renewed at the kiosk. This fee pays for the technology and is not assessed or retained by Larimer County. Additionally, there is a $0.50 convenience fee to pay using a check, or a 2.3% fee to pay via credit or debit card.

Please call ITI Customer Care at 1-866-955-5258 with any questions about transactions at a kiosk.