Environmental Stewardship Awards
Larimer County's annual Environmental Stewardship Awards recognize individuals and organizations that are good stewards of the environment.
What we recognize
The awards recognize the environmental stewardship activities of individuals, organizations, business, or public agencies that take place within Larimer County. The activities can be simple or complex. Successful nominations are projects that are effective, innovative, creative, provide leadership and sustainability. The nomination form will help guide you through those criteria.
Suggestions for possible nominations include: an individual that shows a commitment to environmental stewardship on their property or in the community, an educator who is dedicated to instilling an environmental ethic in their students, or a business that uses innovative practices to minimize impacts and enhance the environment. A list of the previous stewardship awards is available on the county website.
Submit a nomination
Anyone is eligible to nominate a deserving individual, organization, business, or public agency for an award.
The nomination period for 2021 is open from January 25  to end of day March 28!  
How the awards are selected
The county's Environmental and Science Advisory Board reviews and evaluates each of the nominations based on four criteria:
Educational value of a project
Actual environmental benefit
Degree of commitment
Impact to Larimer County
Then they make recommendations to the County Commissioners who make the final selection. The winners will be recognized by the Commissioners at a regularly televised meeting.
Questions
We can be reached by phone at (970) 498-5738, or by email if you have questions about the stewardship awards program.
Last Year's Awardees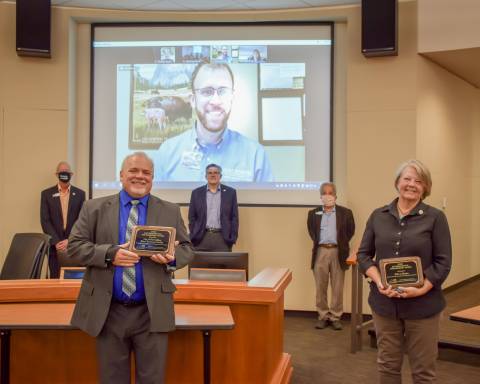 Left to Right: Commissioner Chair Steve Johnson; Gregg Stonecipher, City of Fort Collins Water District; Commissioner Tom Donnelly; Kevin Crosby, Xanterra Travel Collection (on screen); Commissioner John Kefalas; Mary Beth McCubbin, Kids in Nature
---
We are excited to present Larimer County's Environmental Stewardship Awards for 2020.  This was the 26th year for these awards!
Wildland Restoration Volunteers
This non-profit volunteer organization has been active since 1999.  Their projects focus on restoring trails and riparian habitats, removing noxious weeds, building artificial beaver dams and other activities to restore rivers and streams.   Their mission is to foster a community spirit of shared responsibility for the stewardship and restoration of our public lands. 
They work on projects across Colorado, but one important project in Larimer County involved the Young Gulch Trail Restoration Project in the Poudre Canyon.  The Trail was significantly damaged following the High Park Fire in 2012 and then further damaged by the 2013 floods, both of which made the trail impassable.   The trail restoration project involved 821 volunteers working on 51 separate projects over a five-year period (2016-2019).  They repaired 42 stream crossings and miles of trail.  The trail opened to the public Dec. 13th 2019. 
This project provides an example of the significant commitment to restoration of important outdoor places and habitats in Larimer County.  Volunteers gain significant education opportunities that build lifelong skills and relationships. 
City of Fort Collins Water Treatment Facility
In the effort to meet their Climate Action Goals to reduce greenhouse gas emissions, the City of Fort Collins installed a microhydro electric generator that provides 20% of their water treatment facility's electrical demand.  The generator provides a direct source of renewable energy, and as a result improves air quality in our community by reducing greenhouse gas emissions. This project exemplifies an innovative technology that is typically only seen in larger scale applications.  The City's efforts toward conversion to renewable energy provides a significant pollution-reduction benefit to the residents of Larimer County.
Kids in Nature
The mission of the Kids in Nature program is to connect kids with nature and foster environmental awareness, land stewardship and education of the importance of our public lands. The program has been active since 2007, and in 2019 volunteers served more than 400 children, parents and counselors.  What make their programs special is the fact that they provide opportunities for at-risk kids who don't typically get to experience outdoor activities.  Some of the participants have never been outside the city environment, so the opportunity to learn about the natural world can have profound and positive impacts on a child's wellbeing.  The kids get to participate in four programs
      1) Mammals in the mountains
      2) We need trees
      3) Aquatic macro-invertebrates (bugs)
      4) Fire Awareness
The Kids in Nature program, which is part of the Poudre Wilderness Volunteers, is the only one of its kind in Larimer County, and they provide important environmental stewardship and education for our youth.
Xanterra Travel Collection
Within Rocky Mountain National Park, toward the top of Trail Ridge Road, is the historic Alpine Trail Ridge Store and Café.  Xanterra started operating the Trail Ridge store in 2007, and immediately installed a small 9-panel solar array, which provided 1.78kw of the store's electricity.  By 2018, they increased their array to 153 solar panels that together provides 56 kw of electricity and includes a battery backup system.  The solar array provides 90% of their electrical needs and the system replaces the diesel powered generator, which annually used 5500 gal of fuel.  As a result, the solar array eliminates 56 metric tons of the CO2 emissions and saves $30,000 in electricity costs – annually!
In addition to their use of renewable solar energy, the Xanterra Travel Collection exhibits environmental stewardship in the following ways:
42% of gift shop offerings are sourced from Colorado or adjacent states
36% of food and beverage purchases for the Café are from local vendors
They conserve water through the use of low-flow fixtures throughout their facilities
They conserve energy through the use of LED lights in the store and all other facilities
They provide education of their sustainability efforts through interactive signage throughout the store and café
The Xanterra Travel Collection's sustainability program at the Trail Ridge Store and Café provides a significant reduction in particulate and greenhouse gas emissions in an ecosystem that is highly vulnerable to such pollutants.  Their work is contributing to the conservation of this important alpine resource that so many people get to enjoy.