Fortified with professional knowledge
After many hours of coursework spread over four years, The Colorado County Treasurers' Association, in collaboration with Colorado Mesa University Office of Extended Studies, has confirmed Larimer County Treasurer Irene Josey is now a Certified County Treasurer.
Of all county treasurers in Colorado's 64 counties, only about half hold this certification, and recertification is required every four years. Before being certified, a treasurer must be an elected county treasurer for four years. The CCTA program started in the mid-1990s.
To complete the certification, Josey enhanced her skill sets in public fund investing, bankruptcy, tax lien sales, meeting county cash flows, treasurer's deeds, metropolitan special district taxing operation, Payment in Lieu of Taxes [PILT] funds, road and bridge funding streams, and personal property and mobile home distrains --- just to name a few.
The Larimer County Treasurer also notifies property owners of taxes owed, collects those taxes, and most importantly distributes those funds to many tax authorities --- like schools, cities, fire districts, and other entities providing critical public services for Larimer County residents.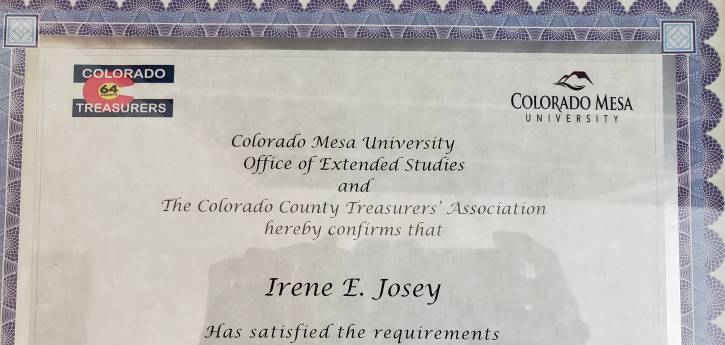 Published on:
Tuesday, October 15, 2019 - 3:54pm
Irene Josey, Larimer County Treasurer, [970] 498-7027
Treasurer and Public Trustee