HAE
Larimer County Board of Health Supports Restricting Youth Access to Products Containing Nicotine
This week the Larimer County Board of Health voted to support and recommend that Larimer County and its municipalities pass local ordinances restricting youth access to products containing nicotine. The passing of HB 19-1033 authorizes counties or cities to enact a resolution or ordinance regulating the sale of cigarettes, tobacco products, or nicotine products to minors. Possible regulations include tobacco retail licensing, raising the minimum age of tobacco related products to age 21, and flavor restrictions.
While youth cigarette consumption has declined in recent years, youth e-cigarette use has increased dramatically. According to the FDA, e-cigarette use increased 78 percent among our high school students from 2017 to 2018. Colorado has the highest e-cigarette use for youth in the nation, double the national average. Larimer County youth are using e-cigarette products at a higher rate than the state average. 
In addition to the Larimer County Board of Health support for this resolution, representatives from UCHealth, Banner Health and the American Lung Association attended the meeting to show support for the resolution.
"The American Lung Association is deeply concerned about the illnesses attributed to vaping across the country, including here in Colorado. On top of that, we are concerned about e-cigarettes creating a new generation addicted to harmful and deadly nicotine products," said Ellen Penrod, executive director of the American Lung Association in Colorado. "The resolution from the Larimer County Board of Health to recommend raising the sales age of tobacco products to 21, instituting licensure for tobacco retailers, and considering a ban of flavored tobacco products could have a tremendous impact to protect our youth from these dangerous products. Regardless, the Lung Association warns that no one should use e-cigarettes because they can cause irreversible lung damage and lung disease." 
Colorado is one of 13 states that does not require a license to sell cigarettes and tobacco/nicotine products even though tobacco retail licenses have been shown to be an effective tool to reduce youth access to tobacco and nicotine. A licensing structure enables municipalities and counties to monitor who is selling products and ensures compliance with existing laws.
"Passage of a resolution like this one opens the door to conversations where local jurisdictions or the county can consider what is most important to include in their provisions around the purchase, sale, and possession of tobacco and products containing nicotine, especially as they look to prevent sales to and access by minors," said Andrea Clement-Johnson, Health Promotion Services Director for the Larimer County Department of Health and Environment.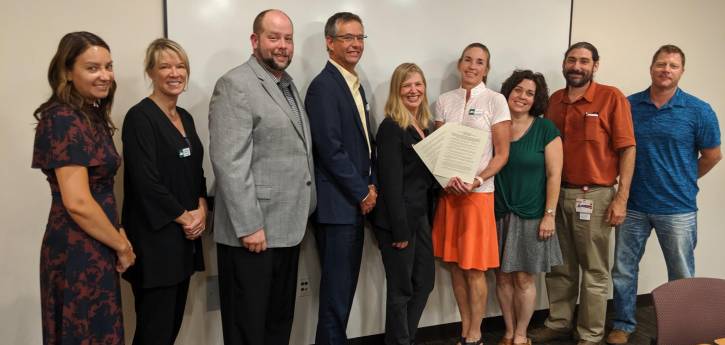 Health