SHR
Man and Woman in Custody Following Vehicle Pursuit
On May 13, 2019, at approximately 6:53 p.m., a Larimer County Sheriff's Office deputy attempted a traffic stop of a Chevy Impala displaying a stolen license plate near Highway 287 and North Shields Street in Fort Collins.  The Impala failed to stop, and the deputy pursued the Impala northbound until it pulled onto a farm property and into a building in the 3700 block of North Shields Street.  One adult male and one adult female had exited the Impala as the deputy pulled in behind them.  While the deputy issued commands and was waiting for more deputies to arrive, the female got back into the Impala and sped away northbound on North Shields Street.
The male suspect fled on foot through multiple structures on the farm property.  Fort Collins Police Services, Colorado State University Police, and an LCSO K9 deputy unit arrived to assist and set up a perimeter.  The suspect was located in a building and was apprehended by the LCSO K9.  He was treated at a local hospital for minor injuries sustained to his lower leg from the K9 bite and booked into the Larimer County Jail.
Deputies responding to assist engaged in a second vehicle pursuit with the Impala driven by the female suspect as it fled northbound to Taft Hill Road, eastbound on West County Road 66, and southbound on Terry Lake Road.  Deputies successfully deployed road spikes in the area of Terry Lake Road and Highway 1, deflating both driver side tires.  The Impala continued southbound at speeds in excess of 90 mph until the tires began to shred causing it to slow down.  Deputies used a Precision Immobilization Technique (PIT maneuver) to stop the Impala as it turned northbound onto Highway 287 from Highway 1.  The female suspect exited the vehicle, did not comply with commands, and was taken into custody after a successful taser deployment.  She was evaluated and cleared at a local hospital and booked into the Larimer County Jail.
The owner of the farm on North Shields Street confirmed that neither suspect was associated with or had permission to be on the property.
The male was identified as Caleb Alberto Vasquez (05/22/1995) of Tribune, KS.  He was booked for one outstanding arrest warrant and five new allegations.  Bond for the new allegations was set at $550.
2nd Degree Burglary (class 4 felony)
1st Degree Introduction of Contraband (class 4 felony)
1st Degree Criminal Trespass (class 5 felony)
Obstruct Peace Officer (class 2 misdemeanor)
Possession of Drug Paraphernalia
Larimer County warrant – Fail to Comply ID Theft (class 4 felony)
The female was identified as April Clarissa Daniels (04/28/1984) of Fort Collins and was booked on the following allegations.  Bond was set at $850.
Vehicular Eluding (class 4 felony)
DUI/DWAI Alcohol or Drugs (class 4 felony)
2nd Degree Burglary (class 4 felony)
Driving After Revocation (class 1 misdemeanor)
Resist Arrest (class 2 misdemeanor)
Obstruct Peace Officer (class 2 misdemeanor)
Open Alcoholic Beverage Container (traffic offense)
Booking photos of Vasquez and Daniels are attached.
The charges are merely an accusation and the defendant is presumed innocent until, and unless, proven guilty.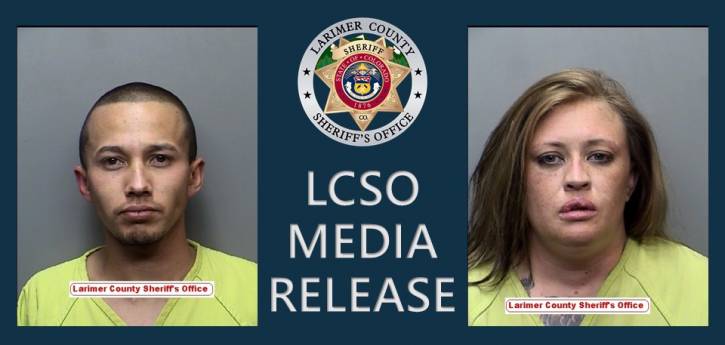 Sheriff