Gaiter's legacy in sculpture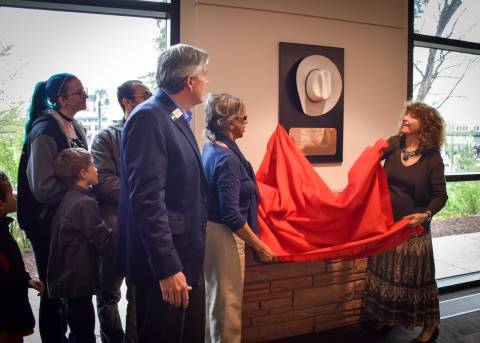 Larimer County Commissioner Lew Gaiter was never a cowboy. But his legacy lives on in Larimer County with the unveiling of a bronze copy of the cowboy hat he used to wear everywhere --- except at Bronco games.
The north hallway of the Larimer County Courthouse Offices building on May 7th filled with a crowd of people and family members who came to honor Gaiter for his tireless service to Larimer County and the people of Colorado at a ceremony unveiling the sculpture.   
The permanent sculpture is displayed on a wall across from the first-floor hearing room, a room he spent time in connecting with the people of Larimer County, at the Larimer County Courthouse Offices Building in Fort Collins.
The bronze piece was the creation of Loveland artist Austin Weishel, who was commissioned to create the sculpture.
If Lew Gaiter wasn't a cowboy, what's behind his wearing of the hat? Jeannette Gaiter, his wife, shed some light on that at the ceremony.
After they were married, a job brought Lew and Jeannette to California where he bought a gray cowboy hat as a symbol of his rugged Colorado individualism along with a Colorado bumper sticker for his car.
He missed Colorado too much though, the pull-back was too strong, so they moved back and he lost the hat on a plane coming back home,  according to Jeannette.
Later, when he decided to run for County Commissioner, his head got cold, so he wore various hats or ball caps to keep his head warm as we went about campaigning.
Eventually, he purchased another cowboy hat, this time brown felt, at Jax Farm and Ranch in Fort Collins and wore that instead.
As time went on, the hat simply became his signature --- his brand --- and finally his trademark.
One of his very close friends, in an affectionate way, referred to it as " 'that ugly hat.' "
Lew Gaiter was passionate about public service and bringing as many different views to the forefront as possible when finding solutions to challenges or trying something new.
One of his goals was to establish an economic development department in Larimer County, which is now a reality, as a part of Larimer County Economic and Workforce Development.
Gaiter believed that better job opportunities for people came through more economic development, while also lifting many up and making Larimer County a better place to live.  
Dovetailing on economic development, Gaiter also advocated for the establishment of rural broadband service in the county as the future conduit to enhance commerce, safety, and the economy.
He wore the hat up to the last week before his passing from cancer.