SHR
Arrest Made Following Pursuit Near Berthoud
On Wednesday morning, 8/1/18, at about 8 a.m., the Larimer County Sheriff's Office received a report of a stolen pickup truck in Berthoud. Just over an hour later, deputies located the vehicle near Lonetree Drive and County Road 14. The truck accelerated rapidly away from deputies, who pursued it at speeds of over 95 miles per hour until the truck crossed a red light at Highway 287 and deputies discontinued the pursuit for safety. During the three minutes deputies were pursuing the stolen truck, the driver crossed into the on-coming traffic lane directly at an approaching deputy and forcing the deputy to leave the roadway to avoid a head-on collision. About thirty minutes after the pursuit was discontinued, the truck was found abandoned in a field near the Weld and Larimer county line. The Weld County Sheriff's Office assisted in locating the vehicle after responding to the pursuit.
On Thursday morning, 8/2/18, at about 9 a.m., deputies arrested Devon Turner, DOB: 10/27/98, without incident in the 100-block of North 5th Street in Berthoud. Turner had been identified by various evidential items in and around the truck on Wednesday. Turner was booked into the Larimer County Jail on allegations of:
Aggravated Motor Vehicle Theft, CRS 18-04-0409  Felony 4
Vehicular Eluding, CRS 18-09-0116.5 Felony 5
Forgery, CRS 18-05-0102 Felony 5
3rd Degree Criminal Trespass, CRS 18-04-0504 Felony 5
Possession of Burglary Tools, CRS 18-04-0205 Felony 5
Criminal Attempt: Vehicular Assault-Peace Officer, CRS 18-02-0101 Felony 6
Violation of Bail Bond Conditions, CRS 18-08-0212 Felony 6
Criminal Mischief, CRS 18-04-0501 Felony 6
Drove with License Suspended/Revoked/Denied/Cancelled, CRS 42-02-0138 Misdemeanor
Reckless Driving, CRS 42-04-1401 Misdemeanor 2
Traffic Control Devices Violation, CRS 42-04-0603 Infraction A
Drug Paraphernalia Possession, CRS 18-18-0428 Petty Offense
All charges are merely an allegation and the defendant must be presumed innocent until and unless proven guilty in court.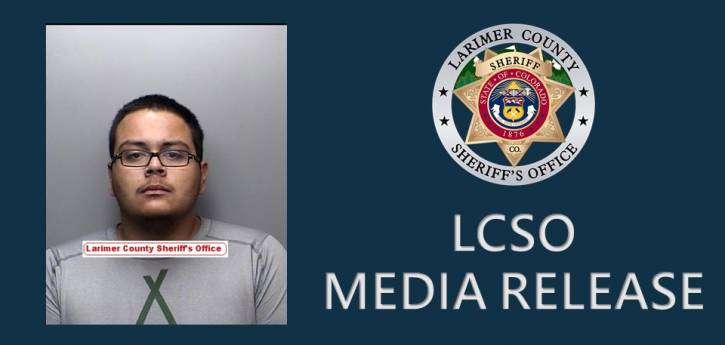 Sheriff