HR
2018 Innovation Awards Program
APPLICATION DEADLINE EXTENDED TO WEDNESDAY, FEBRUARY 14TH @ 5:00PM.
Larimer County promotes a culture of innovation and continuous improvement. The Innovation Award program is designed to honor employees for their creative methods, ideas, processes, and programs they implemented that improved Larimer County.
We are calling on you to nominate fellow employees or apply for the program yourself to shine attention on the implementation and accomplishments of new approaches, effective solutions, and creative and innovative changes made by the employees of Larimer County.
The Innovation Awards will be presented to the recipients by the County Commissioners on May 22, 2018 at 2:30pm in the Hearing Room. A press release will follow.
In addition to the public recognition, the winner(s) will receive a monetary award of up to $5,000!
Applications will be reviewed on the following criteria:
Connection to Larimer County's Guiding Principles.
Novelty, originality, and/or uniqueness. Does the innovation represent a fundamental change in direction, policy, program or approach?
Results, significance and/or relevance. The level to which the innovation addresses a need or problem or is beneficial to Larimer County.
For more details about the Innovation Awards Program, including rules, awards, eligibility, timeline and the program application, click here for the 2018 Innovation Awards Program booklet. You can also access the electronic application by clicking here.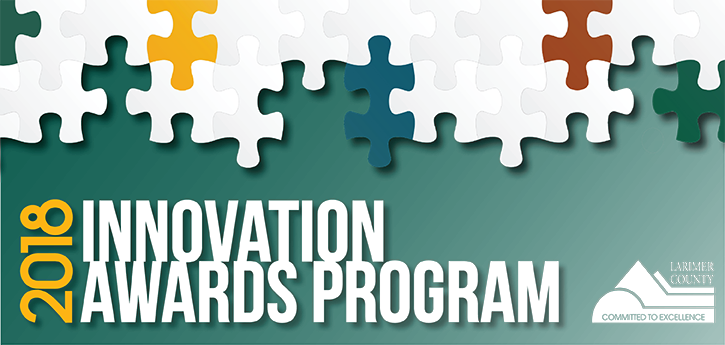 Published on:
Wednesday, December 27, 2017 - 1:56pm
Nicole Berg, nberg@larimer.org
Jennifer Zwiefka, jzwiefka@larimer.org
Human Resources