HAE
Nurse-Family Partnership® Program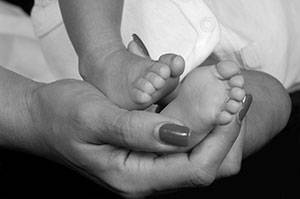 Nurse-Family Partnership (NFP) is a voluntary prevention program providing nurse home visitation services to low income, first-time mothers throughout pregnancy until the baby is two years old.
The purpose of the Nurse-Family Partnership is to improve pregnancy outcomes, optimize child health and development, and encourage economic self-sufficiency for eligible, first-time parents.
About the program
Nurse-Family Partnership is free to eligible women. Learn about eligibility requirements here.
Nurse-Family Partnership encourages the baby's father, family members and even friends to be involved in the visits and to learn how they can best support the mother. The mother is the one who is enrolled in the program and therefore she decides who can be involved with the visits.
Participants must agree to have a nurse make regularly scheduled visits in their homes through the pregnancy until the child is two years old.
This program is different from other maternal programs because it is only for first-time mothers. The woman's home visits are provided by NFP nurses who visit over a longer period of time (2 years) than the maternity programs.
The Nurse-Family Partnership program does not provide financial assistance..
To learn more, visit nursefamilypartnership.org
NFP Contact Information
Angie Ketchum, RN
Supervisor, Nurse Family Partnership
(970) 498-6731
Email Angie