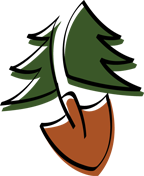 Our Mission
Larimer County Conservation Corps (LCCC) promotes individual development through service for the benefit of the environment and community.
About the Larimer County Conservation Corps
In 1986 the Larimer County Economic and Workforce Development created a summer youth employment program called Operation Brightside with support from the local Anheuser-Busch brewery. Within this program youth participants made repairs and home improvements for elderly and disabled residents of Larimer County, Colorado.
In 1993, Operation Brightside was reconceived as the Larimer County Conservation Corps (LCCC) to address two key issues: the persistent challenges youth and young adults face in securing employment and gaining work experience; and to maintain local parks, open spaces, and natural lands for the enjoyment of the community.
Through conservation projects and environmental education, we empower our corpsmembers to become environmental stewards, while developing self-sufficiency and work preparation skills to help them become productive members of our community. The LCCC is an accredited corps through the Colorado Youth Corps Association and is based in Fort Collins, Colorado.
To date, the LCCC operates four seasonal programs: AgriCorps focuses on local food projects on community farms serving youth 14-16 years old; the Land program focuses on a variety of conservation projects and serves youth ages 16-19; the Sawyer program manages Pine Beetle kill tree removal and fire mitigation, serving young adults 18-24; and lastly our Water & Energy program provides energy conservation education and audits for residents of Larimer County and serves young adults ages 18-24.
Each of our programs is unique within the corps, but each one reflects our core values of environmental conservation and individual development. The majority of work done by LCCC crews is supported through fee-for-service contract dollars and grant funding.
Our Goals
To promote self-sufficiency in youth and young adults through skill development for personal and professional growth.
To increase participant's knowledge and awareness of community and environmental issues through education and service learning.
To complete meaningful and long lasting conservation projects in Northern Colorado that benefits our environment and community.