Judge Conrad L. Ball Award
What is the Conrad L. Ball Award?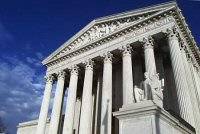 Judge Ball was for many years a loved and respected jurist in Larimer County. Each spring this award is given in his memory to a recipient who has significantly contributed toward improving the quality of criminal justice in the County. The Larimer County Community Corrections Department on behalf of the County Commissioners does the awards process (gathering nominations, selecting the recipient, arranging the awards dinner, and presenting the award).
The recipient, usually a single person, but sometimes co-recipients or a team is selected from among candidates nominated each year by colleagues, coworkers, and other citizens.
Please note that this whole process depends on the initial input. Without the knowledgeable people who take the trouble to submit nominations, the award couldn't happen. If you know someone who deserves recognition, please take the trouble. Nominations are accepted from November through the end of February.
Recipients
2018 - Ray Martinez
2017 - Honorable Daniel J. Kaup
2016 - Luke Hecker
2015 - Sharon Winfree
2014 - Nancy Griffith-Conklin
2013 - Victor Johnson
2012 - Les Rudner
2011 - Judge Christine A. Carney
2010 - Tom McLellan
2009 - Honorable James H. Hiatt
2008 - Honorable Stephen J. Schapanski
2007 - Clifford E. Riedel
2006 - Velma G. Gallegos
2006 - Joseph A. "Andy" Gavaldon
2005 - Andrew L. Bertrand 
2004 - Loren Schall
2003 - Honorable Arnaud Newton
2002 - Honorable John-David Sullivan
2001 - Phil Porter
2001 - Anne G. Hudgens
2000 - Sergeant Leslie Young
1999 - Laurie Barnhill & Magistrate Joseph Coyte
1998 - Judy Bradley, Ellen Ring, Karen Berg & LuAnn Wasinger
1998 - Captain Gary A. Darling
1997 - Paul H. Cooper
1996 - Gina P. (Dersham) Pando
1996 - Cynthia M. Hartman
1995 - Thomas H. Moore
1994 - Mary Anne Hadac
1993 - Terence A. Gilmore
1992 - Stuart A. VanMeveren
1992 - Linda Wheeler-Holloway
1991 - Earl J. Fawcett
1990 - Honorable John J. Tobin
1989 - James P. Anderson
1988 - Larry R. Abrahamson
1987 - D. Joan Hopkins
1986 - Honorable John A. Price
1985 - Gail W. Doxtader
1984 - Chief Ralph M. Smith
1983 - Honorable J. Robert Miller
1982 - William Clothier
1981 - Paul Holdeman
1980 - Donn Hopkins & Jeff McConkey
1979 - Honorable Conrad L. Ball