Unincorporated Estes Valley (Outside Town Limits)
What is considered the Unincorporated Estes Valley?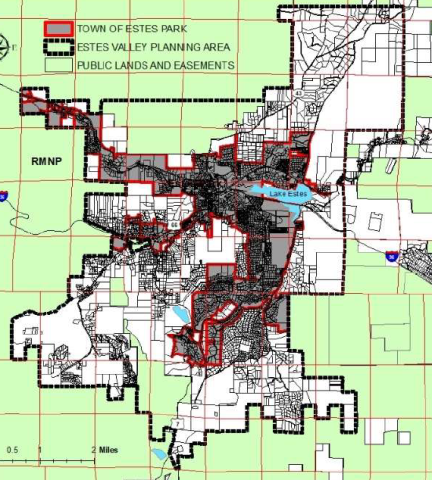 How do I find information about the recently adopted regulations for the Estes Valley?
How do I report a potential code violation or submit a complaint?
For properties within the unincorporated area of the Estes Valley,  you may submit a complaint here.   
Are anonymous complaints accepted?
 It depends.   If the complaint involves a Land Use Code violation (including the new Estes Valley regulations, or a violation of the Rubbish or, Wildlife Protection, the complaint must be in written form per direction from the Board of County Commissioners.   The only exception to this statement is if the violation involves a life-safety issue or one that Code Compliance staff members determine has a significant impact on the public, nearby properties and/or the neighborhood.    If the complaint involves a violation of the Building Code(s), or the Graffiti Ordinance, it may be accepted on an anonymous basis due to the potential for life-safety issues associated with construction or gang/illegal activities.   However, a signed, written form is preferred.  Submit a Complaint.
 
How do I submit a complaint regarding Vacation Homes in the Estes Valley?
Please call 970-480-0865 to file a complaint
Some complaints (animal control, noise, vehicles parked on public streets, weeds, etc.) are handled by other agencies.
Information can be found here.
 
What happened to the Vacation Home regulations within the EVPA?
Applications in process prior to April 1, 2020, will proceed under the EVDC regulations. 
Applications submitted after April 1, 2020, are subject to the Larimer County Land Use Code to obtain approval as a short-term rental or large short-term rental.  If approved, they will be reviewed as "vacation homes" or "large vacation homes" under adopted Larimer County building codes. 
Vacation homes approved before April 1, 2020 will be considered "grandfathered" under the EVDC regulations. 
The terms "vacation home" and large vacation home" will continue to be used for homes in the EVPA that received approval under the EVDC or the Larimer County Land Use Code to apply for building permits under adopted County building codes. 
The cap of 266 vacation homes in the unincorporated area remains in residential zoning districts.  This cap number was determined by how many homes were approved in the EVPA as of March 31, 2020 as determined by the Estes Park Town Clerk's office. 
Properties subject to the cap are on a "wait-list" and when a slot becomes available are processed under the Larimer County Land Use Code to become a short-term rental or large short-term rental. 
For Vacation Homes with a current registration, per locally adopted IRC and IBC regulations, all work resulting from failed life-safety inspections or from an As-Built Building violation needs to be completed by March 31, 2021.  If the work is not completed by the deadline, registration revocation may result. 
Vacation home re-registration will be processed every two years.  The re-registration will be in the form of a verification form.  No fee will be assessed. 
Will Code Compliance be handled differently than it has been?
There are two main differences you may see:
The first is that anonymous complaints are generally not accepted.  (see link above)
The other difference is that, for the most part, we will utilize a "three strikes" system.   A letter will be sent with each report of a violation, but a Code Compliance case will only be initiated after the third violation is received.