Second phase of public input sought for Horsetooth Mountain Open Space Management Plan Update
Larimer County Department of Natural Resources (LCDNR) is seeking additional public input for its management plan update at Horsetooth Mountain Open Space (HTMOS). This second phase of input is to gauge the public's response to conceptual adjustments to the existing trail system, resource management activities, and other operational modifications at the open space. Tools for feedback include an online survey, interactive map, and discussion forum, which are posted on the engagement webpage. The webpage is open for comment through November 12, 2021.

The first phase of public input for the HTMOS Plan Update occurred from July through September 2021. Feedback was gathered via an engagement webpage, interactive map, survey, trailhead outreach tables, and two virtual public meetings. LCDNR staff compiled the feedback, which informed the proposed concepts. Completion of the HTMOS plan update will be completed by year end.

All project materials, online survey, interactive map, and recorded public meetings can be accessed via:
https://lcconnects.mysocialpinpoint.com/horsetooth-mountain-plan-update/horsetooth-mountain-plan-update-home/

HTMOS is bordered by Lory State Park to the north, Horsetooth Reservoir to the east, and private lands/subdivisions on portions of the west, east and south edges. Within HTMOS, there are 29 miles of natural surface trails accessed by two primary trailheads, the main parking area along West County Rd. 38E and the Soderberg trailhead near Horsetooth Reservoir's Inlet Bay.  For more information, please visit larimer.org/naturalresources/parks/horsetooth-mountain/horsetooth-mountain-open-space-plan-update.

About Larimer County Department of Natural Resources
The Natural Resources Department manages Larimer County's magnificent open spaces and water-based recreation areas and fosters responsible land stewardship through weed management and healthy forest practices. To learn more, visit www.larimer.org/naturalresources

Photo credit Horsetooth Mountain Open Space, Brendan Bombaci.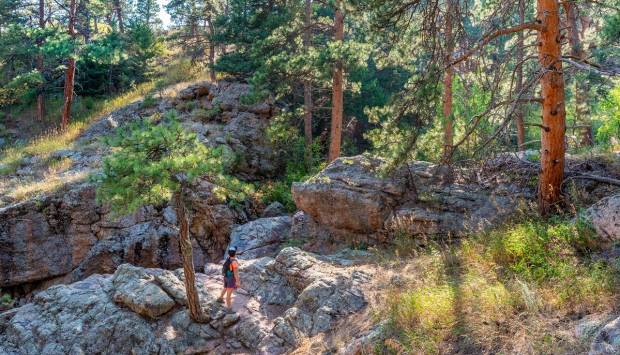 Published on:
Monday, October 11, 2021 - 3:56pm
Zac Wiebe
Planning & Natural Resource Specialist
Larimer County Natural Resources
970.619-4534; zwiebe@larimer.org
Natural Resources