Larimer County Natural Resources launches the Discover Pack
LOVELAND – Discovering the outdoors in Larimer County just got a bit easier. Larimer County Department of Natural Resources (LCDNR) in partnership with five library systems presents the Discover Pack, a new community outreach tool working to make Larimer County parks and open spaces more accessible for those looking to "try-on" the outdoors but may not know where to start. 
The program officially launches Friday, August 6 in partnership with Poudre River Public Library District, Loveland Public Library, Estes Valley Library, Red Feather Lakes Community Library, and Morgan Library at Colorado State University.  The packs are also offered for check-out at LCDNR Administration Office, Horsetooth Area Information Center, and Hermit Park Visitor Center.
Accessing the Discover Pack is as simple as visiting a local library or visitor center and checking out the pack. Members of the community can check out these packs for up to seven days at a time and can renew up to two times a year. No holds are allowed. The program was modeled after Colorado State Parks and Wildlife's "Check Out State Parks" program.
The Discover Pack contains a parking pass valid at all Larimer County Natural Resource properties, recreation map, regulation and safety guides, area locator info and tips, wildflower guide, youth activity guide, and more. Parking is not guaranteed when utilizing the Discover Pack pass, and no other discounts are associated with the Discover Pack.
Special acknowledgement and thanks go to the Larimer County Board of County Commissioners for being the lead program sponsor of the Discover Pack program. For more information, please visit https://www.larimer.org/naturalresources/discover-pack.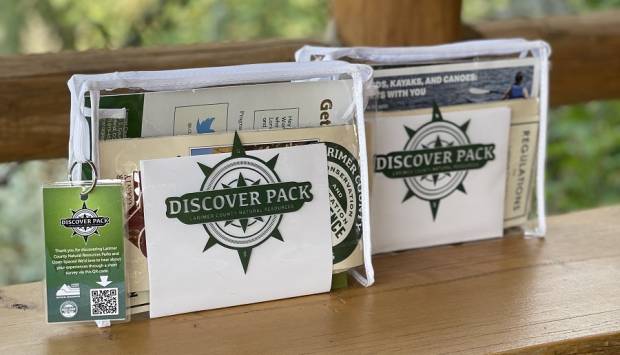 Published on:
Friday, August 6, 2021 - 10:18am
Korrie Johnston
Community Relations & Public Information Supervisor
Larimer County Natural Resources
kjohnston@larimer.org
Natural Resources