CR 72 (Owl Canyon) Improvements between US Hwy 287 and CR 21
Project Information: 
The main focus of the project is to pave the final 3 miles of the Owl Canyon corridor  project map .  Along with the paving, the roadway will have minor vertical and horizontal geometric improvements that will allow for a posted speed limit of 50 mph once the project is complete.  The paved road will consist of one lane in each direction with 8 foot shoulders for a total paved width of 40 feet matching the previously reconstructed phases to the east of CR 21.  The current gravel road carries over 2,500 vehicles per day, including a large percentage of heavy trucks and recreational vehicles, which is more than 6 times above the paving threshold.  It is extremely challenging and expensive to maintain the existing gravel road with the existing traffic volumes and they are predicted to keep climbing.
CR 72 will be re-aligned at the US Highway 287 approach with this phase to straighten the two existing horizontal curves.  Re-striping of the existing dual northbound lanes on Hwy 287 at the CR 72 intersection is also proposed to allow for an exclusive northbound acceleration and deceleration lane on and off of Hwy 287. 
A new 15' wide by 4' tall concrete box culvert just west of Owl Canyon Trail will be constructed and drainage culverts will be replaced and upsized to properly convey stormwater flows under the roadway.  Fencing and gates will be replaced where impacted by the widening project.
Two lanes for local and through traffic will be maintained during construction.  A full road closure for the duration of the construction project is not anticipated. 
The project will be funded entirely by Larimer County.  The construction cost estimate is $6.4million.   
Project Status:
Construction will begin April, 2021 and continue through the Fall of 2021.
Contact:
For more information, please feel free to contact the Project Manager, Matt Johnson, at (970) 498-5724 or send an Email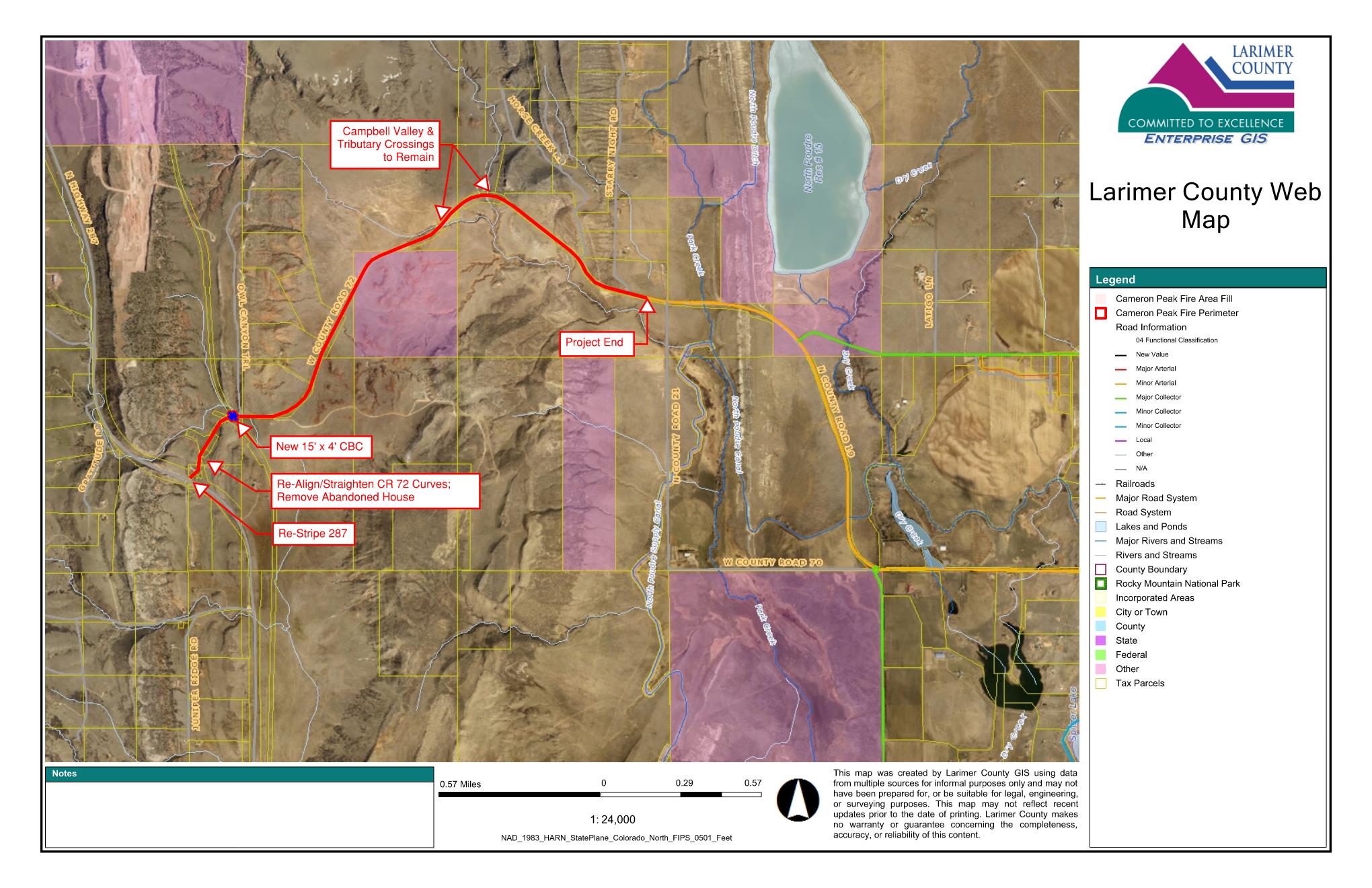 Published on:
Thursday, April 1, 2021 - 12:29pm
Engineering