42nd Judge Conrad L Ball Award Honors Gary Darling
Former Larimer County Director of Criminal Justice Services Gary Darling will be honored as the recipient of the 42nd Judge Conrad Ball Award for his outstanding work in criminal justice and dedication to the community.
Nominations are also currently being accepted for the 43rd Judge Conrad Ball Award until March 31, 2021, with both the 42nd and 43rd recipients of the award being honored in a combined celebration in the fall of 2021.
Darling was a previous Conrad Ball Award recipient in 1998 for his work heading the Larimer County Jail as a Captain for the Larimer County Sheriff's Office.
Darling became the Larimer County Criminal Justice Planning Manager in 2007, laying the foundation for expansion and improvement of Pretrial Services and Alternative Sentencing programs and facilities designed to keep jail populations stable while other jurisdictions experienced population increases. He brought the courts, law enforcement, and other officials together to accomplish these innovations while also advising the Board of Larimer County Commissioners on criminal justice legislation, reform, funding, and programming innovations.
As director of the newly created Department of Criminal Justice Services, Darling merged Larimer County Community Corrections, Alternative Sentencing, Pretrial Services, and Criminal Justice Planning divisions into one agency with a unified mission.
Darling has been a champion for programs and services supporting mental health and substance use disorders. His leadership was essential in the voter-approved Larimer County behavioral health initiative funded by a .25% sales tax, plus the formation of specialty courts like Wellness Court, in-jail medication-assisted treatment, and the establishment of a broader Co-Responder Program for law enforcement agencies in the county.  
Whether creating innovative programs or addressing the Colorado Legislature on criminal justice issues, Darling always concentrated on collaboration to bring many diverse groups together to address common issues and craft workable solutions. After four decades of service, Gary Darling retired in May 2020.
Other nominees for the 2020 Conrad Ball Award were Valerie Gallegos with Loveland Municipal Court Jumpstart Program; former Larimer County Commissioners Tom Donnelly, Steve Johnson, and the late Lew Gaiter (posthumous); and Denise Meyer with Disabled Resource Services.
Due to COVID-19 restrictions for large gatherings, a planned May 1, 2020 dinner was postponed indefinitely. It is hoped the event can be held in the fall of 2021 as a combined celebration for both Darling as the 42nd recipient and a future recipient of the 43rd Conrad Ball Award. Updated information for the award will be posted at https://www.larimer.org/cjs/comcor/conrad-ball-award.
Nominations for the 43rd Conrad Ball Award are being accepted until March 31, 2021, and can be submitted in one of three ways: via online nomination, via email, and by U.S. Mail. Nominees can be an individual, co-recipients, coworkers, Larimer County residents, or a group(s) that has made a significant contribution to criminal justice in Larimer County.
The Larimer County Community Corrections Department manages the award process, selecting the recipients[s] and arranging a dinner where the award is presented. To nominate a candidate or team, compose a brief essay which is no longer than two typed pages, describing the nominee's outstanding contributions to criminal justice in Larimer County.
Online submission: www.larimer.org/nominate-conrad-ball
Email: submission: aclevenger@larimer.org
U.S. Mail: Attn: Aubrey Clevenger, Larimer County Community Corrections,
                                2255 Midpoint Drive, Fort Collins, Colorado 80525, [970] 498-7512.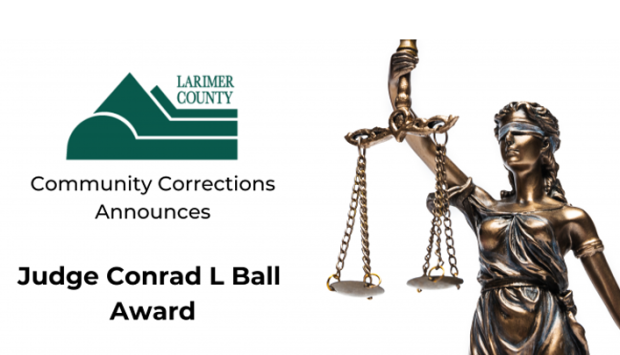 Published on:
Wednesday, February 3, 2021 - 12:01pm
Aubrey Clevenger, [970] 498-7512, Aclevenger@larimer.org
Criminal Justice