Behavioral health looks toward the future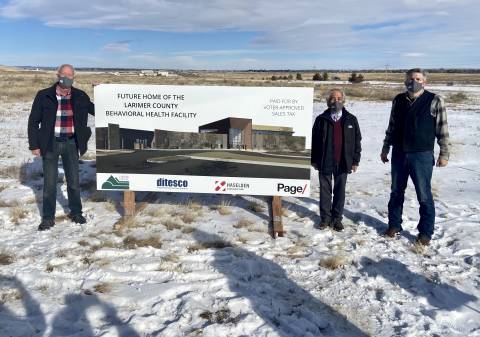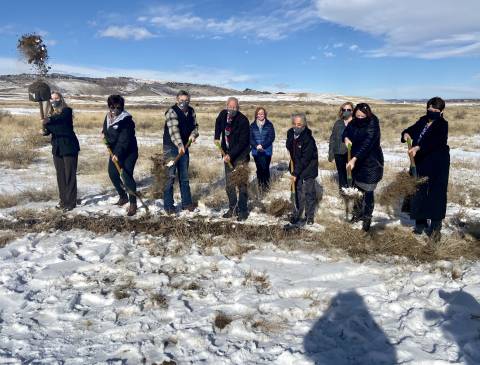 With spades in their hands, officials dug in and tossed the first ceremonial shovels of the earth on the site of the new Larimer County Behavioral Health Services Campus in southwest Fort Collins.
Located on the northwest corner of Taft Hill and Trilby Roads, The Board of Larimer County Commissioners on December 16th broke ground on the new facility with a planned opening of winter 2022. Page Southerland Page Architects, Ditesco Construction Services, and Haselden Construction were selected to build the facility, which has been designed to promote healing and recovery.
Larimer County voters in 2018 passed a 0.25% sales tax to expand behavioral health services in Larimer County and construct a behavioral health facility to coordinate those services, address gaps in services, make them affordable, accessible, and available to residents of all ages. Visit Behavioral Health Services | Larimer County to learn more.
The 64-bed facility will offer six levels of service including behavioral health triage, 23-hour observation, professional mental health assessment, and substance use diagnosis. Crisis stabilization and short-term residential treatment will also be available. A suite of withdrawal management services will also be available including social detox, and ambulatory medication-assisted treatment. 
"What a truly historic moment this is, for all of Larimer County.  Things will never be the same again, as we look forward and rewrite the delivery model of behavioral healthcare in our community.  Larimer County and our partners are so pleased to be at this project milestone", noted Larimer County Director of Behavioral Health Services Laurie Stolen.  "To see this long-awaited project moving into the construction phase is exciting. It is a significant step towards fulfilling our commitment to the residents of Larimer County to improve critical access to affordable and appropriate behavioral health care for all."
Summit Stone Health Partners, in a partnership with UCHealth, was selected by the Board of Larimer County Commissioners through a competitive solicitation to provide a continuum of behavioral health services at the new facility.
"With this facility and the funds that have gone out to communities throughout Larimer County, we will become the best county in the state of Colorado for access to excellent mental health and Behavioral Health Care for our residents," said Larimer County Commissioner Steve Johnson.
A future vision for the facility includes a campus-type atmosphere with additional support and therapy services for county residents focused on health and well-being.