Great Outdoors Colorado (GOCO) grants $475,334 to construct new campground at Carter Lake
Larimer County Department of Natural Resources (LCDNR) received a $475,334 grant from Great Outdoors Colorado (GOCO) to construct the Sky View Campground on the east side of Carter Lake Reservoir in Loveland. A first of its kind in Larimer County, this project offers the community its first campground catering to large groups and to individuals with mobility challenges.

The grant was part of GOCO's Resilient Communities program, which helps grantees advance outdoor recreation, stewardship, and land protection work in addition to supporting immediate needs or opportunities that have emerged in direct response to the COVID-19 pandemic.

The Sky View Campground will help meet growing community demand for camping. In 2020, camping occupancy rates at Carter Lake Reservoir reached 95% during weekdays and 100% full on weekends between June and September* as citizens sought more time in the outdoors due to COVID-19 restrictions (*outside of the Cameron Peak Fire and COVID-19 related closures).

Conveniently located across from Carter Knolls Campground off County Road 31, Sky View will offer 15 campsites. Some unique features are notable for Sky View Campground, making its construction a "first" in Larimer County. The campground is engineered to offer a pod design, which will cater to large groups such as reunions, youth clubs and hobbyists (RVs, Boy Scouts), and other groups wanting to camp near each other. The campground will have three pods of five campsites each.

Each campsite will accommodate an RV or tent, offer electric hookups, picnic tables, and fire rings. While priority camping reservations at Sky View will be first available to groups, LCDNR will provide flexibility to reserve to individuals as well. Other features at Sky View include environmental education program offerings, a vault restroom, ample parking, and a large pavilion to seat up to 50 people.

Additionally, the campground offers greater accessibility to individuals with limited mobility. Amenities that assist mobility at Sky View include paved roads and parking, one ADA accessible campsite per pod, a pavilion offering accessible picnic tables, and a gated entrance.

"The pod design and infrastructure durability at Sky View Campground will allow us to accommodate groups and offer a new camping option for individuals with limited mobility, broadening our reach to additional citizens," said Daylan Figgs, Director, Larimer County Natural Resources.

Grand opening of Sky View is tentatively slated to occur in fall 2021 or spring 2022. For more information about the project, please visit the website at larimer.org/naturalresources/parks/carter-lake/sky-view-campground.
 
About Larimer County Department of Natural Resources
Natural Resources manages Larimer County's great outdoor places, including magnificent open spaces and water-based recreation areas, and fosters responsible land stewardship through weed management and healthy forest practices. To learn more, visit www.larimer.org/naturalresources.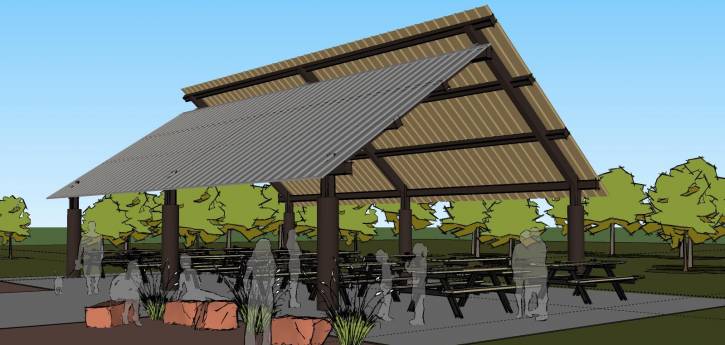 Published on:
Friday, November 20, 2020 - 10:45am
Daylan Figgs, Director
Larimer County Natural Resources
(970) 619-4560
Dan Rieves, Carter Lake District Manager
Larimer County Natural Resources
(970) 619-4456
Natural Resources