Household Hazardous Waste Holds a Graphic Design Contest
Contact: Griselda Still, 
Communications Specialist
Larimer County Solid Waste 
970-498-5776
FOR IMMEDIATE RELEASE
LARIMER COUNTY HAZARDOUS WASTE INVITES STUDENT GRAPHIC DESIGN SUBMISSIONS FOR A BATTERY SAFETY CAMPAIGN.
Ft. Collins, Colorado, November 03, 2020-  Larimer County is looking to engage graphic design and art students, inviting them to design and enter a sticker decal contest that brings awareness to the hazards of putting batteries in the trash or recycling.  The winning design will be featured in a Battery Safety Campaign, spearheaded by the hazardous waste program, during National Battery Month in February 2021.  
This contest is an incredible opportunity for students to promote themselves and make a difference. Their innovative design will help prevent fires by reminding county residents to keep batteries out of the trash and curbside recycling. Batteries must be recycled properly at an authorized facility like the Larimer County Hazardous Waste facility or the City of Fort Collins Timberline recycling facility. 
In addition to having their design distributed to the public, the winning designer will receive gift cards from community sponsors including Jerry's Artarama, Momo Lolo Coffee, Mugs Coffee, Spoons, Panino's Italian Restaurant, and Matador Grill.
"Batteries start 3-5 fires a month at the landfill and recycling center, so our amazing staff is working hard to create awareness around this issue. We realized that our students are a valuable asset to our community and we wanted to harness their wealth of creativity and knowledge to help educate others. Another bonus is that this contest fits perfectly with the County's mission of empowering our community in innovative ways" stated Linda Hammett, The Household Hazardous Waste Manager. 
Batteries in consumer products are becoming smaller, more powerful, and more plentiful. They are slipping through the cracks of battery collection programs and showing up in greater numbers at waste and recycling processing facilities. Because they are essentially stored energy, it doesn't take much for batteries to release energy in the form of heat and start a fire. In 2018, a nation-wide survey found that recycling center fires had increased by 50%, and 64% of those fires were caused by lithium batteries.  These fires can be prevented by proper disposal of such materials in Larimer County.  For more information on proper Battery Disposal in Larimer County, visit: larimer.org/solidwaste/batteries
To help Larimer County bring awareness to this issue, please submit your entries by December 1st, 2020. For more information and to enter please visit: larimer.org/solidwaste/haz/contest
###

The Hazardous Waste Facility is located within the Landfill at 5887 S. Taft Hill Road. Residential battery drop off is available Monday, Tuesday, Thursday, Friday, and Saturday from 8 am - 4:30 pm. More information can be found at www.larimer.org/solidwaste/haz.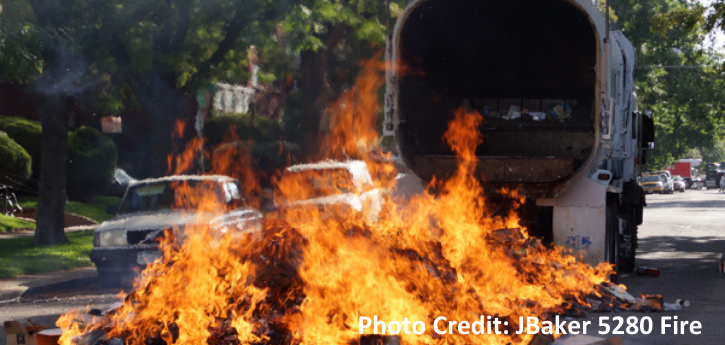 Published on:
Tuesday, November 3, 2020 - 9:39am
larimer.org/solidwaste/haz/contest
Solid Waste