HR
Shining Stars of Disability Employment Award Winner
In light of October being National Disability Employment Awareness Month, we're excited to share Larimer County was nominated and recognized with a Shining Stars of Disability Employment award from the Division of Vocational Rehab (DVR). 
Larimer County was selected for this award based on our work and partnership with DVR to create and implement programs that result in the hiring of people with disabilities. The award ceremony will be held virtually on Thursday, October 29th, from 11:30pm-12:30pm. 

In the last year, Larimer County has learned a lot as an employer, on where we have opportunities for improvement when it comes to hiring individuals with disabilities. Many of our learning opportunities have come from missteps we've made along the way. For example, we've learned how to better prepare a hiring manager for an interview; how to better explain to a candidate what to expect for the interview; how to look at the physical work environment from the perspective of an individual with low mobility; how to prepare and support a supervisor and department; how to make the most of the relationship with a job coach; and much more. We will continue to implement changes from our experiences and lessons learned. We intend to improve our own systems and processes and further develop our partnership with DVR to continue hiring people with disabilities.
In addition to this award, Nicole Berg, our Inclusion Administrator, has been invited to speak as part of  the Division of Vocational Rehab's Employer Week. Nicole will be presenting on Wednesday, October 28 at 2:00pm regarding Larimer County's philosophy and programs in creating employment opportunities for people with disabilities. We look forward to sharing our experiences with other employers because the discomfort of learning is worth the final outcome of increased employment of people with disabilities. 
We're proud of the work Nicole has done on behalf of Larimer County so that we can be considered inclusive among the disability community.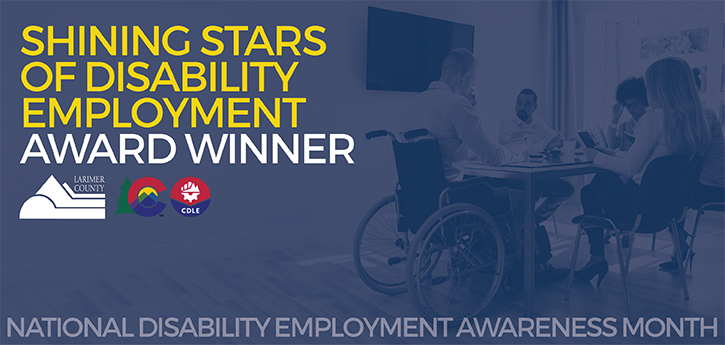 Published on:
Tuesday, October 20, 2020 - 3:18pm
Human Resources