Section of Horsetooth Rock Trail Closed Temporarily for Maintenance
FORT COLLINS, Colo. – A section of the Horsetooth Rock Trail at Horsetooth Mountain Open Space will be temporarily closed from Monday through Friday, August 10-14 and Monday through Friday, August 17-21 for maintenance. 
The popular open space west of Fort Collins, Colo., receives about 224,000 visitors annually, and a 0.75-mile section of the trail to the top of its iconic landmark requires work due to use, forces of nature and its steeper grades. 
The section to be temporarily closed for maintenance runs from the Horsetooth Rock Trail's junction with the Soderberg Trail to its junction with the South Ridge Trail. A detour can be taken on the South Ridge Trail to go around the closed area. The top of Horsetooth Rock will remain open.  
Trail users must stay out of the closed area for their safety. The Larimer County Department of Natural Resources' Trail Program Staff will be moving large rocks and felling a few trees during the maintenance. The crew will improve the sustainability of the trail, reduce erosion, build rock retaining walls and rock steps, and enhance water drainage off portions of the Horsetooth Rock Trail.
For questions or information, please contact Joel Schwab, Trails Project Supervisor, at (970) 498-5609 or jschawb@larimer.org.

About Larimer County Department of Natural Resources
Natural Resources manages Larimer County's great outdoor places, including magnificent open spaces and water-based recreation areas, and fosters responsible land stewardship through weed management and healthy forest practices. To learn more, visit www.larimer.org/naturalresources.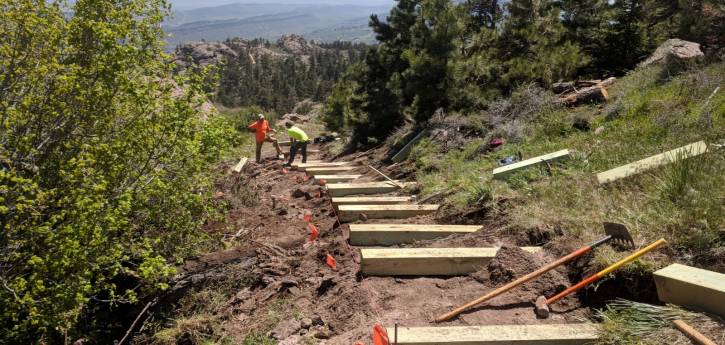 Published on:
Monday, July 20, 2020 - 3:01pm
Joel Schwab, Trails Project Supervisor
jschwab@larimer.org or 970-498-5609
Natural Resources