Prepare for the June 30th Election Now
We are all living through some interesting times, and there is a lot of conversation out there about voting processes nationwide.
Please take a moment to think about voting HERE in Larimer County!  It is especially important during these interesting times that your election processes here proceed as normal.  Your help is needed to ensure that the election takes place smoothly, with the highest level of integrity, and in a way that keeps everyone healthy (voters and election judges alike).
Here's what YOU can do!
If you are a US Citizen and will be at least 18 years of age by November 3rd (Presidential Election Day):
If you are not already registered to vote, DO SO NOW by going to votelarimer.org
If you moved, changed your affiliation or want to update your registration with your email address – DO SO NOW by going to votelarimer.org
Ensuring you are registered and that your registration is accurate NOW, will mean that your primary election ballot will be delivered directly to you at your home during the week of June 8th.
Once you receive your ballot in the mail:
Please vote the ballot that you receive – please take advantage of the fact that there is no need for you to go into a Voter Service and Polling Center to vote.
Please vote early and return your ballot in a way that does not require in-person contact,

The best option is simply to affix a first-class stamp and place it right back out for the postal carrier to return for you.
The second-best option is to drop it into a 24-hour ballot box – check your voter instructions or go to votelarimer.org for those box locations.
If you think you need to go into a Voter Service and Polling Center for some reason, please call us first at 970.498.7820.  We will help to determine if there is another option for you that does not require in-person contact.
If you confirm that you must go into a Voter Service and Polling Center, please:
Wear a mask
Maintain 6-foot social distancing
Utilize sanitation stations while you are there and before interacting with election judges
Giving a few moments of attention to this process now will not only keep the process moving efficiently and successfully, but it will also help to keep everyone healthy!
Our processes will be slowed by social distancing requirements in voting sites and at our counting facility.  When you vote early, you have a significant impact how quickly results can be announced. 
Check the accuracy of your registration NOW!
Do not wait until Election Day (June 30th) to vote!
Stay well during the process!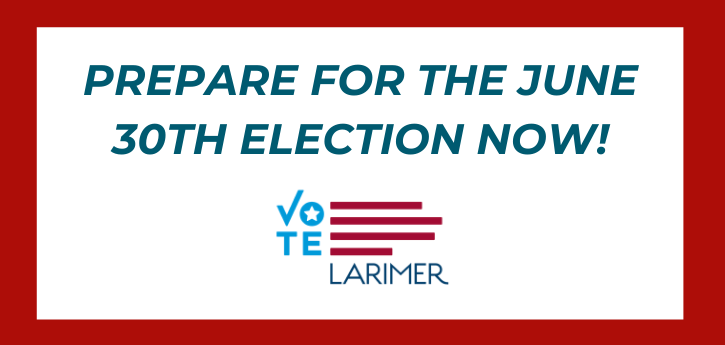 Published on:
Friday, May 15, 2020 - 4:55pm
Clerk and Recorder