Clerk and Recorder's Office Limits In-Person Transactions
Because we are concerned for your health and the health of our staff, effective March 18th Larimer County Clerk & Recorder offices will provide very limited in-person access for the public. 
Vehicle Licensing
Appointments are required for in-person transactions and we will not be able to process walk-in transactions. To schedule an appointment with our Fort Collins and Loveland locations, visit www.larimer.org/bookatime. To schedule an appointment with our Estes Park location, call (970) 577-2025, option 5, and our staff will assist you.
You can also complete numerous vehicle licensing transactions remotely: 
Complete the following transactions online at www.Larimer.org/Eservices. 
Renew your license plates (even if you're late)
Replace tabs or plates
Estimate registration fees
Complete a first time registration
Apply for a first time disability placard
Request a duplicate title
Transaction Receipt
Request a duplicate registration card
Change your address
Renew disability placard
Renew your tags at our self-service kiosks! Visit www.Larimer.org/Kiosk for location details.
Call and complete transactions by phone by calling 970-498-7878, Option 5.
Dealer/Fleet/Courier Services will allow drop-off only.
Recording
Recording has suspended all public-facing services with the following exceptions:
Marriage and Civil Union Applications and Licenses:
Marriage and Civil Union applications and licenses will continue to be processed and issued at the following locations:
| Fort Collins | Loveland | Estes Park |
| --- | --- | --- |
| Clerk & Recorder | Clerk & Recorder | Clerk & Recorder |
| Citizen Information Center | Vehicle Licensing Office | Vehicle Licensing Office |
| 200 West Oak St., 1st Floor, Fort Collins | 200 Peridot Ave., 1st Floor, Loveland | 1601 Brodie Ave., Estes Park |
| Hours: 8a-5p | Hours 8a-5p | Hours: 8a-4:30p |
| Call 970-498-7860, option 5 | Call 970-498-7878, option 5 | Call 970-577-2025, option 5 |
Documents
Document for recording can be dropped off at 200 W Oak with proper remittance included (payment by check only). Please visit www.larimer.org/clerk/recording/fee-calculator to estimate your fees. The recorded document will be returned to you by mail. Our Recording Department is currently recording all documents delivered to us.
The following services are not available at this time:
Passport processing
Sale of park permits 
Sale of pet licenses 
Elections
Our Elections office will be closed to the public, but you may contact the Elections Department by email at Elections@larimer.org or call us at 970-498-7820 to receive guidance from staff.
Additionally, Larimer County Residents are also able to register to vote or update an existing registration by visiting votelarimer.org.
We appreciate your patience with our office during this time. We will continue to make every effort to serve you!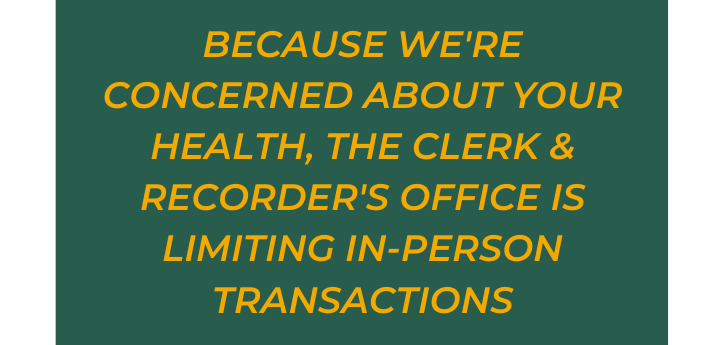 Published on:
Wednesday, March 18, 2020 - 3:00pm
Clerk and Recorder