Coffee carts in Estes Park fight teen suicide
Estes Park High School (EPHS) was awarded a grant by the Larimer County Behavioral Health Services department in October 2019 to pilot a unique, student-driven program using coffee carts as a way to help students connect, share, and prevent suicide.
Suicide is the leading cause of death among youth ages 10-17 In Colorado and in Larimer County it is the second leading cause of youth deaths. The goal of the EPHS coffee cart program, named Cat Chat after the school mascot, is to reduce social stigma and increase mental health awareness and early intervention by bridging student connectivity gaps at school.
The school uses a portable coffee cart to allow students to gather for conversation in a confidential setting, promoting the student's sense of value and safe respect for sensitivity.
On Fridays, students meet at the coffee cart, indicate how they're feeling on their coffee sleeves (anxious, sad, calm, happy, etc.), and engage with peers in a device-free, secure atmosphere. Conversations are run by a student peer leader who coordinates the coffee-cart sessions, facilitates discussions, and reports back to a mental health faculty member if a student in the group shares feelings that suggest they are a suicide risk.
Hannah Knox, the school advisor overseeing the program, is encouraged by the level of student involvement. "We have 10 student peer leaders who run the cart of various grade levels, genders, and identity. What I love about this group is that it is a unique swatch of our student population. These are kids who are very passionate about mental health and helping others," says Knox.
According to the project sponsor Dr. Lisa Kurth, the school will produce a documentary on the project to share findings and program impact, using this project as a model that could be rolled out in other schools across the state.
Dr. Kurth said, "students have expressed true ownership, enthusiasm, and participation in this novel program." The coffee cart has received so much positive feedback that the school is planning on expanding the program for the remainder of the school year.
The students at EPHS are on to something with their unique coffee cart program. Recent research reveals correlations between social connectedness and mental health.
The grant that EPHS received for this project was funded by the 2018 Larimer County voter-approved sales and use tax ballot initiative. Funding from the tax is redirected back into the county in the form of grants with four priority areas identified: suicide prevention, mental illness/substance use disorders, stigma reduction/community engagement, innovation/new practices. 
In 2019, $1 Million was returned back to Larimer County communities through the Behavioral Health Services grant program.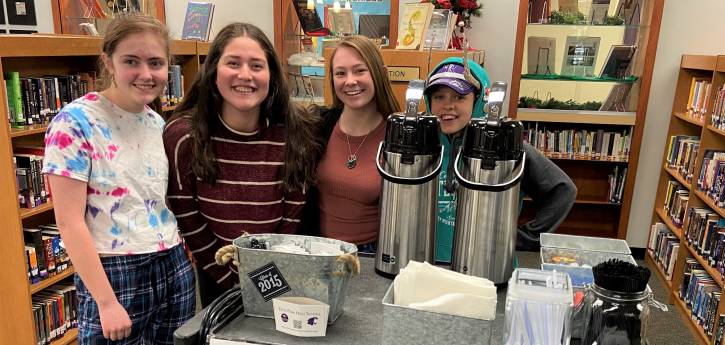 Published on:
Friday, February 28, 2020 - 12:28pm
Jennifer Wolfe-Kimbell, Communication and Media Specialist, [970] 498-7127, wolfekje@larimer.org
Behavioral Health