SHR
UPDATE - Homicide Investigation / Public's Help Sought to Locate Suspect
On February 4, 2020, LCSO investigators received information that Efren Almeida was in the area of U.S. 85 and 39th Street in Evans, CO.  Investigators coordinated with the Evans Police Department and the Weld County Regional SWAT Team and Almeida was arrested without incident at 11:39 p.m.  Investigators also recovered Almeida's vehicle from the same location.
Almeida was transported to the Larimer County Jail and booked on the Larimer County warrant for 1st Degree Murder and Tampering with Physical Evidence.  No bond was set and a new booking photo was not available at the time of this release. 
No further information will be released at this time.
---
February 4, 2020
On January 27, 2020, at about 9:20 p.m., the Larimer County Sheriff's Office communications center received a report of an injured person in the 200 block of Link Lane in Fort Collins.  Deputies arrived and found one deceased male outside a building on the property.  The area was secured and investigators responded. 
On January 31, the Larimer County Coroner's Office identified the decedent as 38-year-old Timothy Bryant of Fort Collins and his death was ruled a homicide.
On February 1, LCSO investigators arrested Nicole Lenae Gibson (10/10/1979) of Laramie, WY in connection with the homicide.   She was booked into the Larimer County Jail on allegations of 1st Degree Murder (class 1 felony) and Tampering with Physical Evidence (class 6 felony) and was assigned NO BOND at her first court appearance on February 3.  A booking photo is attached.
Investigators have secured a 1st Degree Murder arrest warrant for the other suspect in this case and are asking for the public's help to locate him.  Efren Jose Almeida (09/10/1985) is 5'9", 180 pounds, and his most recent booking photos are attached.  Almeida is transient and is known to drive a white 2006 Lincoln Town Car with unknown or no license plates (photos attached). 
Anyone with information regarding this incident or the whereabouts of Efren Almeida is asked to call LCSO Investigator Steve Gates at 970-498-5169.
No further information will be released at this time.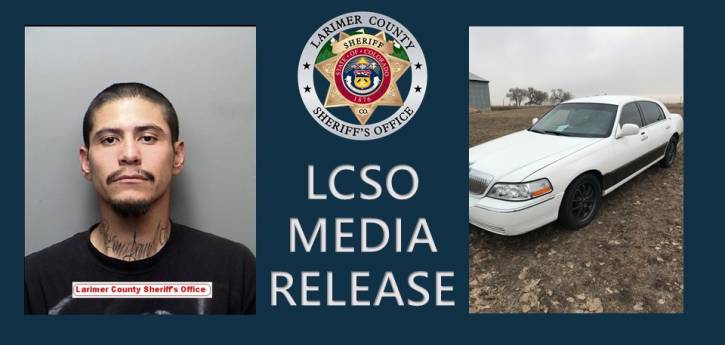 Sheriff