Innovative ideas become reality
When his parents ordered groceries for home delivery, Aiden could see their frustration figuring out a way to be there when they arrive since they both work and he was at school.
They were afraid to let the store simply leave them on the porch, or have the store deliver them again.
The had to be a better way, he thought, so he developed a delivery system which allows groceries to be delivered securely without anyone being home.
Aiden devised a system that uses a secure storage unit the store can place groceries in and when the unit is closed it securely locks. The storage unit keeps food secure, cold and fresh until only the homeowner can access the groceries a few hours later.
Great products and services come from innovative ideas to solve challenges, like Aiden's storage unit, and the 2019 Young Entrepreneur Tournament is the place where they become reality.
The Larimer County Economic and Workforce Development Center is hosting the 12th Annual Young Entrepreneur Tournament in Loveland Oct. 2 through Oct. 23, 2019.
No business idea is too small, and the Young Entrepreneur Tournament enables new and innovative ideas to develop into a business while competing with other peer innovators. Businesses can be for-profit, non-profit, or a co-operative enterprise.
Young entrepreneurs will be able to develop and refine a business plan with experienced business leaders, experiencing what it takes to get a business off the ground and running.
Youth who are 18 and under are invited to participate with training and mentorship in four weekend workshops Oct. 12, through Oct. 20, 2019, with a final pitch event on Oct. 23, 2019.
Participants spend 20 hours developing their business plans and then get to pitch them Oct. 23, 2019, to a panel of judges in a competition to win up to $1,000 in prize money to start that business.
The deadline to apply for the Young Entrepreneur Tournament is October 10, 2019. To learn more visit www.larimer.org/ewd/yet  or call [970] 498-6608.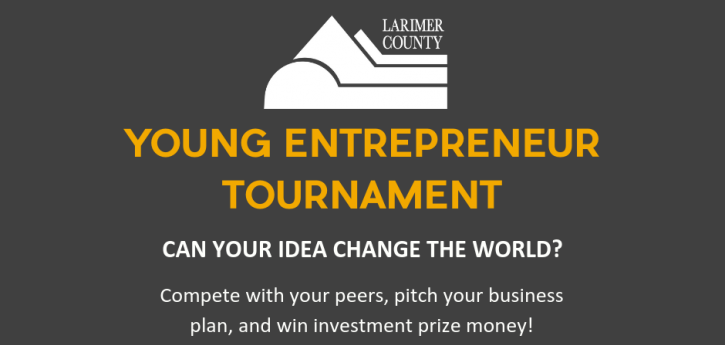 Published on:
Monday, September 16, 2019 - 1:25pm
Andrew Minor, Larimer County Economic and Workforce Development, [970] 498-6083, aminor@larimer.org
Economic and Workforce Development