2019 Community Grant Application is Open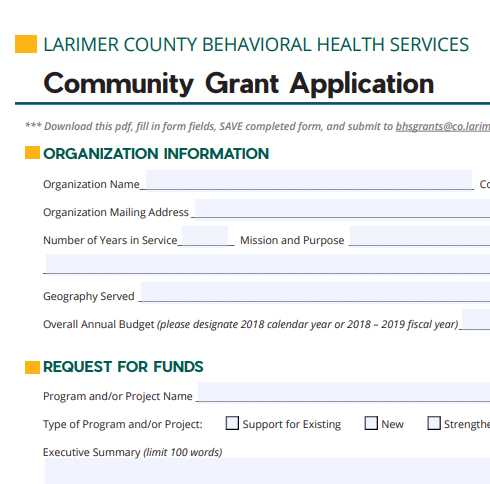 Larimer County is pleased to announce: $1 million in inaugural funding to be distributed in October 2019 for the expansion and enrichment of local behavioral health services across the County.

In July, 2019, the Behavioral Health Policy Council unanimously voted to fund several community partners with $845,000 of the inaugural revenue to enhance community reach in behavioral health. The remaining $155,000 will be offered through a Community Grant cycle, open now.

Complete the 2019 Distributed Services Grant Application online or download the Community Grant Application and email completed submissions to bhsgrants@larimer.org by August 29, 2019 at 5pm.
Published on:
Wednesday, July 31, 2019 - 11:11am
Behavioral Health