Board recognizes Human Services Content Management Team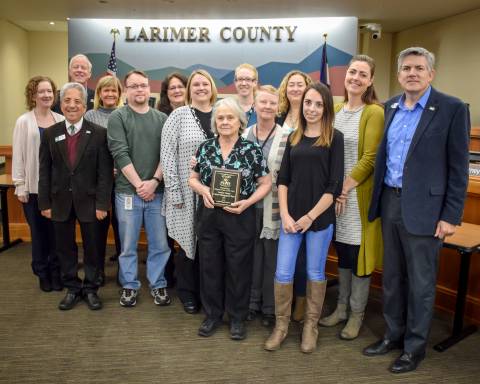 The Board of Larimer County Commissioners on May 21, 2019, recognized The Larimer County Human Services Content Management Team at Administrative Matters for receiving the Outstanding Support Team of the Year from The Colorado Welfare Fraud Council at their 2019 Annual Conference.
"We're so excited to honor this team for the work they do," said Human Services Division Manager Shannon Reiff.
From mail delivery, scanning, indexing, to updating and managing various forms used by the department, the team is responsible for processing many types of documents, while performing many other business management functions, including finding missing documents.
In 2018 they processed over 225,000 documents --- just over a whopping 2 million pages of information.
 "You have difficult jobs, and we appreciate the great work you do," said Larimer County Commissioner Tom Donnelly.