MOU recognizing regional collaboration approved by Weld County and Larimer County Boards of Commissioners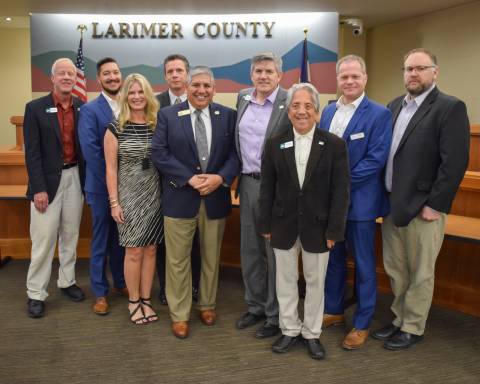 The Larimer County Board of Commissioners [during their Tuesday meeting] and the Weld County Board of Commissioners formally recognizes the hard work being done by both counties and their municipalities with regard to economic development. 
The vote by "both boards to approve the MOU formalizes a collaboration that has already been occurring," said Upstate Colorado President & CEO Rich Werner. "The official MOU, however, allows us to provide to local and national business leaders a tangible document supporting the regional process between the public and private sectors to accomplish regional marketing and fulfillment of economic development projects."
The MOU in part states, "The Boards recognize that certain business, labor, transportation, educational, cultural and other assets exist within our two counties; so that when marketed jointly, a stronger case can be made to prospective employers and potential employees within certain targeted industry and occupational sectors."
"While we understand each municipality's and each county's desire to draw new business into their individual area, the reality is that people don't live and work in just one town," said Weld County Commissioner Chair Barbara Kirkmeyer. "When businesses, and people, frankly, move to a new place, they look at the entire region, and the Northern Colorado Region is a thriving area we want to make sure new businesses are aware of and are considering when looking for new locations."  
The MOU outlines an Economic Development Coalition (NOCO REDI) supporting Northern Colorado communities including:  Berthoud, Estes Park, Fort Collins, Johnstown, Loveland, Timnath, Windsor, Wellington, Ault, Brighton, Dacono, Eaton, Erie, Evans, Firestone, Fort Lupton, Frederick, Garden City, Gilcrest, Greeley, Grover, Hudson, Johnstown, Keenesburg, Kersey, LaSalle, Lochbuie, Longmont, Mead, Milliken, Nunn, Pierce, Platteville, New Raymer, and Severance.
"The Larimer County Board of Commissioners feels a strong connection with our Weld County counterparts.  We have a long history of working together collaboratively, from I-25 expansion to economic development through the Weld/Larimer Revolving Loan Fund," Chair of the Board, Tom Donnelly, said during the Commissioner's Tuesday business meeting.  "This memorandum of understanding is a great way to perpetuate that relationship, and we look forward to many years of collaboration for the betterment of our region."