New Gates Will Allow Boaters to Exit Horsetooth Reservoir, Carter Lake After Hours
LOVELAND, Colo. – Area resource managers have installed a new gate system at Horsetooth Reservoir to allow boaters to exit the water after scheduled boat ramp hours.
The gate system is located at the South Bay day use area and ramp at Horsetooth Reservoir. Gates will be closed and locked when boating hours end for the day to prevent vehicles from entering the area. An exit lane protected with spike strips will remain open after hours, allowing vehicles to exit the South Bay area but prevent vehicles from entering it. This system will allow boaters to remain on and get off the water at the South Bay boat ramp outside of regular hours of operation.
A similar system will be installed at the North Pines boat ramp at Carter Lake by April 15. The North Pines ramp has not yet opened for the boating season.
This will be welcome news for anglers who wish to remain fishing after ramps close for the day, as well as people staying at boat-in backcountry sites who may need to exit the water after hours.
The new gates are a joint endeavor among the Bureau of Reclamation's Eastern Colorado Area Office, Northern Water and Larimer County Department of Natural Resources. 
Preventing ANS
The three agencies, along with Colorado Parks and Wildlife, work collaboratively to prevent aquatic nuisance species (ANS) from infesting the reservoirs. Gates are necessary at ramps to prevent people from illegally launching a boat without first being inspected for ANS, specifically zebra and quagga mussels. An infestation of these mussels could lead to costly damage to water delivery systems, the ecosystem, recreation amenities and other resources. 
At ANS-infested Lake Powell in Utah and Lake Mead in Nevada and Arizona, water managers spend millions of dollars annually to clean infrastructure affected by mussel infestations there. No method has proven effective in ridding North American waters from the pests. The risk of infestation is growing, and area managers are working to stay ahead of these threats locally.
In 2018, ANS inspectors intercepted 11 boats infested with zebra and quagga mussels at Horsetooth Reservoir – the most of any water body in Colorado last year. They also intercepted one boat infested with invasive mussels at Carter Lake. In total, they inspected 57,114 boats for ANS at both reservoirs in 2018, ensuring these reservoirs remain free of zebra and quagga mussels. 
Boat Ramp Hours
Select boat ramps at Horsetooth Reservoir and Carter Lake opened for the season on Monday, April 1. View current boat ramp hours.
Horsetooth Reservoir and Carter Lake are part of the Colorado-Big Thompson Project, which delivers water to 980,000 residents and 640,000 acres of irrigated land along the northern Front Range and northeastern Colorado. The reservoirs were built by Reclamation, and Reclamation jointly operates and maintains those sites with Northern Water. Larimer County has managed the recreation at those reservoirs since they were opened to recreation in the 1950s.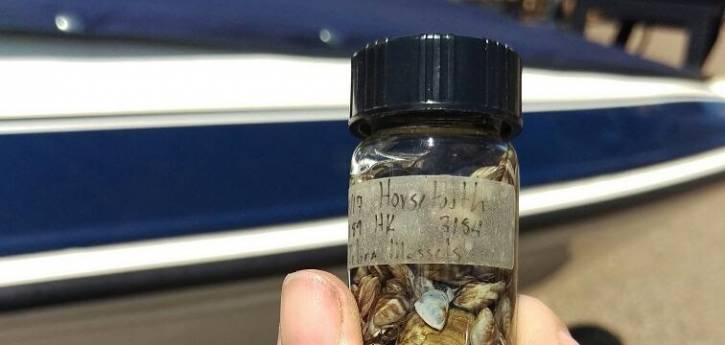 Published on:
Monday, April 8, 2019 - 11:57am
James Bishop, Public Involvement Specialist, Eastern Colorado Area Office, (970) 461-5426, jbishop@usbr.gov
Mark Caughlan, Horsetooth District Manager, Larimer County Department of Natural Resources, (970) 498-5600, mcaughlan@larimer.org 
    
Jeff Stahla, Public Information Coordinator, Northern Water, (970) 622-2331, jstahla@northernwater.org
Natural Resources