SHR
Vehicle Theft Suspect in Custody after Two Pursuits
On March 11, 2019 at approximately 6:15am, deputies responded to the 2500 block of North Overland Trail for a welfare check on a black 2019 Land Cruiser that had activated its SOS/Emergency Alarm.
Upon arrival, the Land Cruiser attempted to strike a deputy who was outside his vehicle and fled the scene. A pursuit was initiated with speeds reaching 80MPH. The pursuit was called off at South Taft Hill Road and Prospect Road due to the suspect's erratic driving. After calling off the pursuit, deputies determined that the vehicle was stolen from a dealership in Fort Collins and had not yet been reported.
At approximately 9:30am, deputies received information that the vehicle was parked in the 3900 block of Buena Vista Drive in Loveland. At that time, deputies requested the assistance of the Loveland Police Department. Upon arrival, a male got into the stolen vehicle and deputies attempted to block the Land Cruiser with their marked patrol cars. The Land Cruiser rammed one patrol car and fled the scene. Deputies pursued the Land Cruiser, reaching speeds of 100MPH and lost sight of it. Moments later, the vehicle was located in the 2500 block of Carla Drive in Loveland and the male suspect had fled on foot.
A perimeter and K9 track were initiated with the help of the Loveland Police Department. A drone was also deployed to help locate the suspect.
The suspect was located in a backyard in the 2400 block of Dawn Court in Loveland at approximately 12:55pm. He was identified as Adam Dean Eckroat DOB:12/26/1986 and booked into the Larimer County Jail on the following allegations:
Two Counts of Attempted Assault on a Peace Officer (Class 5 Felony)
Two Counts of Vehicular Eluding (Class 5 Felony)
Two Counts of 2nd Degree Criminal Trespass (Class 2 Misdemeanor)
Criminal Mischief (Class 5 Felony)
Aggravated Motor Vehicle Theft (Class 4 Felony)
Outstanding Felony Warrant from Fort Collins Police Services
A booking photo was not available at the time of this press release.
At this time, there is no ongoing threat to the public.
The charges are merely an accusation and the defendant is presumed innocent until, and unless, proven guilty.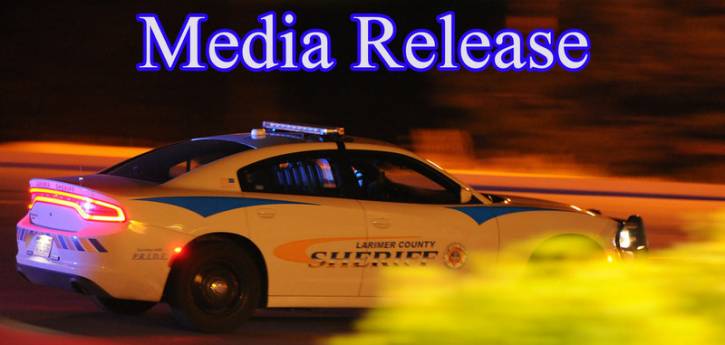 Sheriff