SHR
Man Arrested Following Traffic Pursuit
On March 1, 2019 at approximately 5:00 PM, the Larimer County Sheriff's Office received a report of a suicidal male, who had left from the area of the 2900 Block N County Road 29 in Loveland, CO. The male had pulled over on the side of the road and spoke to two neighbors, and was reported at that time to have a dog in the vehicle and be armed with a shotgun.
Deputies then began receiving several reports of a reckless driver in the area of South Bay at Horsetooth. Deputies responded to the area, where they located the suspect vehicle. Deputies activated their emergency lights, but the suspect vehicle refused to yield and fled from deputies.
Deputies discovered the suspect had crashed into another vehicle in the intersection of Mulberry and Taft Hill in Fort Collins, before barricading in his vehicle. Additional personnel from LCSO and Fort Collins Police Services responded to the scene, and the LCSO armored rescue vehicle (BearCat) was also deployed. The suspect initially refused to exit the vehicle, and refused to follow commands. After eventually climbing out the window of his vehicle the suspect continued to disobey orders. The suspect was struck with a foam baton fired from a 40mm launcher, and taken into custody without further incident.
The intersection of Mulberry and Taft Hill in Fort Collins was shut down for about 2 hours for the duration of the incident and for the resulting crash investigation, which was handled by Fort Collins Police Services. The driver of the second vehicle was checked out by medical personnel and released on scene. Both vehicles sustained moderate damage.
The suspect was identified as Alexander Brendel (03/10/89) from the Fort Collins area. He was transported to an area hospital where is currently being treated for intoxication and minor injuries associated with the foam baton strike. After he is released, he will be transported to the Larimer County Jail and booked on the following allegations:
Vehicular Eluding – Felony
2nd Degree Assault on a Peace Officer – Felony
3rd Degree Assault – Misdemeanor
Reckless Driving – Misdemeanor
DUI – Alcohol or Drugs
Cruelty to Animals – Misdemeanor
Resisting Arrest - Misdemeanor
There are no booking photos at time of release.
At this time, there is no ongoing threat to the public.
The charges are merely an accusation and the defendant is presumed innocent until, and unless, proven guilty.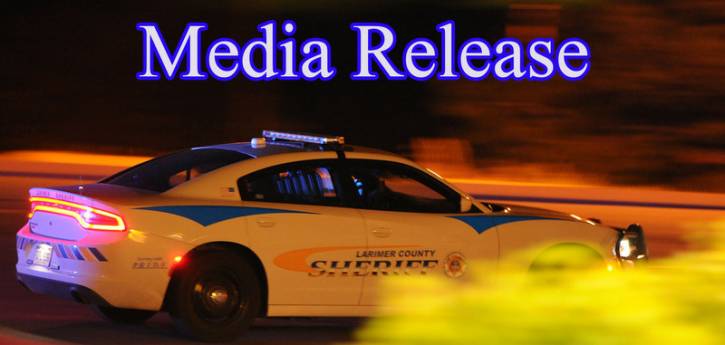 Sheriff