County Coalition Offers Powerful Tools for Caregivers Fall Classes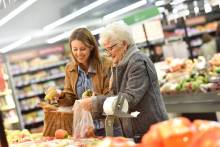 Are you feeling stretched as a family caregiver? Are you neglecting your own needs because you're too busy caring for someone else?
Powerful Tools for Caregivers is an educational program designed to give you 35 helpful tools for caregiving, help you avoid burnout, and be a better caregiver to your loved one.
A coalition including the Larimer County Office on Aging is sponsoring three classes this fall --- starting soon --- titled Powerful Tools for Caregivers.
2:30 p.m. – 4 p.m., on Thursdays, September 6 – October 11, Medical Center of the Rockies, 2500 Rocky Mountain Ave., Loveland. Call 970.495.8560 to register.
4 p.m. – 6 p.m., Thursdays, September 13 – October 18, Loveland Library, 300 N. Adams Ave., Loveland. Call 970.962.2402 to register.
5:30 p.m. – 7 p.m., Tuesdays, October 2 – November 6, Fort Collins Senior Center, 1200 Raintree Drive, Fort Collins. Call 970.221.6644 (class number #425401-01).
Powerful Tools for Caregivers classes help family caregivers acquire 'tools' to reduce stress, balance your life as a caregiver, better communicate your feelings, deal with difficult emotions, and locate helpful resources. https://www.larimer.org/humanservices/aging
Published on:
Wednesday, August 22, 2018 - 9:43am
Lynette McGowan, Caregiver Support Coordinator, Larimer County Office on Aging, [970] 498.7758, lmcgowan@larimer.org
Human Services