U.S. Capitol Flag to be displayed at new Larimer County Loveland Campus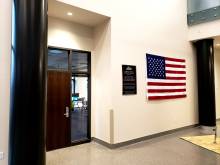 A United States flag that recently flew over the U.S. Capitol in Washington, D.C., will permanently be on display in the main lobby of the new Larimer County Loveland Campus during the grand opening of the facility September 11, 2018.
The flag was last flown at the Capitol on St. Patrick's Day, March 17, 2018. Larimer County submitted a request to acquire the flag through Colorado Senator Cory Gardner's Office. "We want to thank Sen. Cory Gardner, and Dan Betts for getting us the flag," said Larimer County Commissioner Tom Donnelly.
"I hope many people will be able to come to our grand opening,' said Donnelly. "We're excited to show it off to the people it belongs to --- the taxpayers."
The new Larimer County Loveland Campus features many improvements enabling southern Larimer County residents to conduct business easily and quickly, including ample parking. 
Published on:
Wednesday, August 15, 2018 - 11:15am
Ken Cooper, Director of Facilities, 970.498.5915, cooperka@larimer.org 
Facilities