HR
In a growing effort to build teamwork and bring Larimer County employees together, we reached out to local organizations for volunteer opportunities. We're excited to share that a few local programs said yes. Interested employees can visit the LMS system to sign-up for the volunteer events of their choice. We look forward to building on these partnerships in the future.
Hearts & Horses
"At Hearts & Horses Therapeutic Riding Center, our mission is to promote the physical, cognitive, emotional and social well-being of people with special needs through equine-assisted therapy."
Hearts & Horses, a nonprofit therapeutic riding facility nestled in the foothills of Northern Colorado, has been changing lives for people with disabilities since 1997. Hearts & Horses provides a variety of therapeutic and educational programs utilizing our incredible herd of four-legged therapists. Whether you have experience with horses, with kids or just simply life, there is a position for everyone at Hearts & Horses, both for individuals and groups. More information here.
Food Bank for Larimer County
"At the Food Bank for Larimer County, we believe no one should be hungry. Our dream is to deliver health, hope and humanity to stabilize the lives of our clients and build a vibrant community."
The Food Bank ensures that those in our community who are hungry have convenient access to free, healthy and nutritious food. Volunteers are the heart of our organization. In 2017, over 2,600 volunteers generously contributed more than 39,000 hours of their time – equivalent to 19 full-time staff! These volunteers helped us collect, sort, repack and distribute 9.2 million pounds of food. More information here.
McBackpack Program
Believing that children, if well nourished, are able to participate more fully in the learning environment, McBackpack provides supplemental food to Poudre School District students and their families who otherwise would not have enough food over the weekend. More information here.
Guidelines
Employees cannot use work hours to volunteer at these events. Employees should talk to their supervisors about flexing hours, or using vacation time to volunteer.
At this time, volunteer opportunities are only open to Larimer County employees. Spouses and children cannot come.
If you have any questions, please contact your department generalist.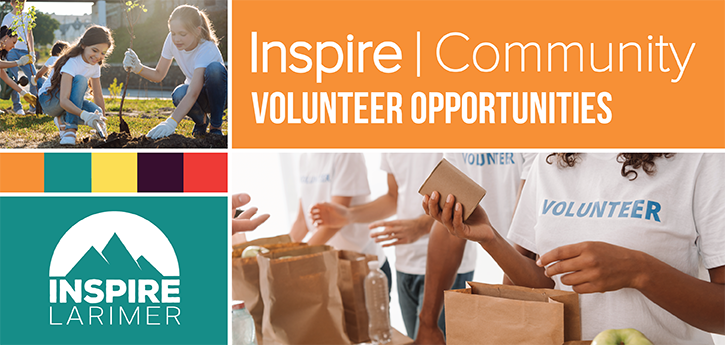 Published on:
Tuesday, August 7, 2018 - 9:10am
Human Resources