North 40 Mountain Alliance recognized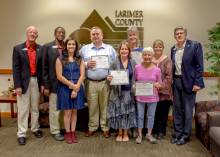 The North 40 Mountain Alliance, a Red Feather Lakes community organization, today was recognized by the Board of Larimer County Commissioners for their efforts in organizing community hubs and celebrating the reception of a $100,000 grant to equip the Red Feather Lakes Library with solar energy.
The alliance created a hub which links neighbors in the area to increase communication with each other so they can be more self-sustainable and remain connected in the event of a large emergency incident.
"This could not have happened without your support," said Darlene Kilpatrick of the North 40 Alliance, when speaking to the Larimer County Commissioners.
The alliance grew from a small grassroots organization into a much larger effort. Following the High Park Fire and the 2013 Flood, the Larimer County Office of Emergency Management, and Larimer Connects wanted to find a way for people in remote areas to connect residents to share information and solve problems.
The hub system came out of that idea, engaging volunteers, multiple communities, local volunteer fire departments, and other resources all designed to encourage self-sufficiency. "It's fantastic to see what this organization has done," said Larimer County Commissioner Lew Gaiter.
The solar grant will enable the Red Feather Lakes Library to be self-sustainable and independent from the power grid with backup power during an emergency event or power loss so electricity and internet connectivity is sustained. The grant was provided by EBSCO Information Services, a leading provider of databases, e-journals, e-books, and other on-line services to libraries. 
Published on:
Tuesday, July 31, 2018 - 2:44pm
Shayle Sabo [Nelson], Emergency Management Coordinator,  snelson@larimer.org, 970.498.7148 
Emergency Management