Free Summer Workshops at the Garbage Garage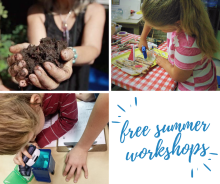 Hands-on, educational activities for kids and adults
Beat the heat and have some fun at the Garbage Garage Education Center. In addition to open drop-in hours, the Garbage Garage Education Center offers free workshops for grade school children, teens and adults this summer. Register or get more information at 970-498-5772, gcohen@larimer.org.
All workshops begin with a brief tour on waste and recycling followed by a lesson and creative activity. Materials are provided for all workshops, but space is limited. Parents and guardians are required to assist as needed.
Build a Worm Bin Workshop for all teens, adults and seniors, 12:30 p.m. – 1:30 p.m., July 25 and 26. Build your own small worm bin and learn all about worm composting. With your new worm bin, you can easily and responsibly dispose of your food scraps. *You must have a space to keep your new bin in your home where the worms will survive (40 – 80 degrees).
Fairy Tale STEM Workshop for ages 5 and up, 12:30 p.m. – 2 p.m., July 31, August 1, 2, and 3. Participants will listen to a fairy tale and design/construct a solution to a storybook problem by reusing materials. Can you come up with the best idea?
Decomposer Detectives Workshop for ages 7 and up, 12:30 p.m. – 1:30 p.m., August 14, 15, 16 and 17. Learn about composting and decomposition with real worms. Create your very own upcycled planter and repot a small plant to take home.
For more info about the Garbage Garage, visit https://www.larimer.org/solidwaste/education/edcenter
Published on:
Monday, July 23, 2018 - 12:27pm
Gloria Cohen, Environmental Educator, 970.498.5772, gcohen@larimer.org
Solid Waste