Larimer County Human Services recognized as most improved
DHS C-Stat award presented for exceeding goals in 2017
Among Colorado's largest counties, the Larimer County Department of Human Services has excelled in their delivery of services to Colorado's most vulnerable residents.
Last week, State of Colorado Department of Human Services Executive Director Reggie Bicha presented Larimer County with a 2017 C-Stat Award. C-Stat is a performance measure tool that identifies specific areas of achievement and areas for improvement.
The C-Stat Award is given to those counties that demonstrate significant achievement in performance and problem-solving areas. Larimer County was one of only two large counties in Colorado to receive the award, consistently exceeding 15 of 21 goals set for performance measures.
Larimer County Human Services Director Laura Walker accepted the award on behalf of all Human Services employees, along with Larimer County Commissioners Tom Donnelly and Steve Johnson.
In 2017, Larimer County Human Services exceeded performance goals for 10 out of 12 Economic Security performance measures, and five out of nine Safety & Well-Being measures for timeliness, accuracy and efficiency.
The department also met goals set for timely eligibility determination for public assistance, collecting significant levels of Child Support payments, and helping public assistance recipients attain employment through the Colorado Works Program.
Both Larimer County adult and child protection responded quickly to reports of elder abuse and child protection issues, while minimizing the number of children in institutional settings.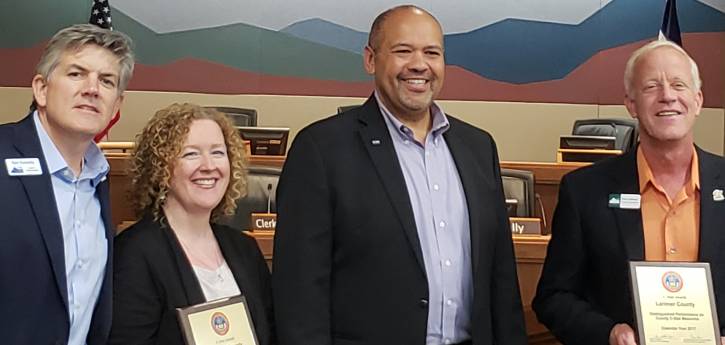 Published on:
Wednesday, July 18, 2018 - 1:27pm
Laura Walker, Larimer County Director of Human Services, 970.498.6329, lwalker@larimer.org, 1501 Blue Spruce Drive, Fort Collins, Colorado 80524
Human Services