First Paved Trail Connecting Loveland, Fort Collins Now Open
LOVELAND, Colo. – The first paved trail connecting Loveland and Fort Collins – and each city's extensive trail network – is now open to the public.
On November 14, elected officials and staff from Larimer County, City of Loveland and City of Fort Collins gathered at a section of the new trail south of Carpenter Road to cut the ribbon and welcome people to the new trail. After the ribbon cutting, several of them hopped on bikes for a tour of the 2-mile, multi-use trail.
"This is a great project that highlights how Fort Collins, Larimer County and Loveland have worked together to provide great recreational opportunities for citizens," Larimer County Commissioner Tom Donnelly said.
The Colorado Front Range Trail - Loveland to Fort Collins Connection runs between Lemay Avenue and Timberline Road on the east side of the cities. From south to north, it extends from Loveland's Recreation Trail just west of Boyd Lake State Park to the City of Fort Collins' Fossil Creek Trail at Carpenter Road.
A partnership among Larimer County, Loveland and Fort Collins will manage the $1.2 million trail. By using this new trail connection, people can go from the 35 miles of paved trails in Fort Collins' system to the 18 miles of trails in Loveland's system without hopping off their bikes or getting in a vehicle. The trail is open to foot traffic and non-motorized bicycles.
The two cities first conceived of the idea for the trail in 2002, identifying it as a possible segment of the larger Front Range Trail system, which will extend from New Mexico to Wyoming. The Colorado Front Range Trail - Loveland to Fort Collins Connection remains a potential segment of this larger, statewide trail system, depending on that trail system's final alignment.
"Loveland is thrilled to be expanding our northern connection of the Colorado Front Range Trail," said Marilyn Hilgenberg, Open Lands and Trails Manager with the City of Loveland. "The synergy of this collaborative trail is a win for all of our communities."
Grants of $450,000 from the Colorado Department of Transportation (CDOT) and $350,000 from Colorado Parks and Wildlife's State Trails Program covered two-thirds of the trail's cost. The cities and county made up the difference based on the proportional costs of trail construction within each jurisdiction. The homeowners' associations and other entities that granted easements for the trail also made construction possible.
"As partners and leaders in natural areas and open spaces, Fort Collins is ecstatic that we are now connected to Loveland's trail network," said Fort Collins Mayor Wade Troxell.
The Colorado Front Range Trail - Loveland to Fort Collins Connection is one of two paved trails that will link the trail networks in Loveland and Fort Collins. A second trail – the 4.4-mile Long View Corridor Trail – will be located on the west side of the cities, running along the east side of North Taft Avenue in Loveland and South Shields Street in Fort Collins. It is expected to break ground in the fall of 2017 and will provide a second safe, non-motorized alternative to traveling between the two cities.
Learn more about these paved trails, or view a map of the Colorado Front Range Trail - Loveland to Fort Collins Connection.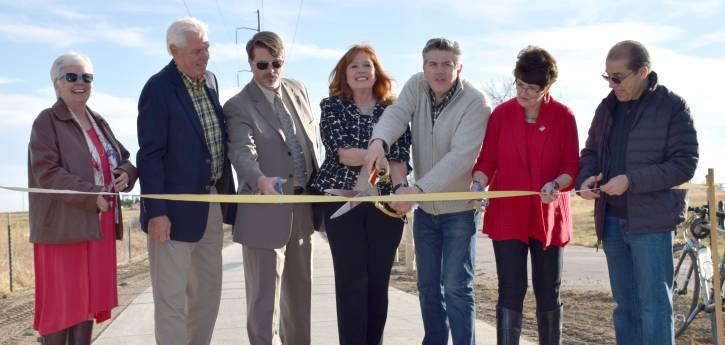 Published on:
Wednesday, November 15, 2017 - 7:21am
Zac Wiebe, Larimer County, Resource Specialist, (970) 619-4534, zwiebe@larimer.org
Suzanne Bassinger, City of Fort Collins, Park Planning & Development, (970) 416-4340, sbassinger@fcgov.com
Scott Sinn, City of Loveland, Park & Recreation Planner, (970) 962-2455, scott.sinn@cityofloveland.org
Natural Resources