Planning for the Future: North Front Range Regional Wasteshed Planning
The management of residual materials is a fundamental facet of community infrastructure, critical to public health, and to the environmental and economic wellbeing of the region. As local governments, we have a responsibility to ensure materials management systems are sufficient, adaptable and sustainable. These systems must balance public and environmental health, economic impacts and community goals – not just locally, but regionally and globally as well. These issues are most effectively addressed at a regional (county) wasteshed level with coordination between local municipalities, the County and private business.
As stewards of the public trust, the charter and charge of the North Front Range Regional Wasteshed Coalition is to responsibly address current solid waste management and resource recovery needs of the region, while considering infrastructure and policy that will meet community needs in the future.
Draft Solid Waste Infrastructure Master Plan
Background
Representatives from regional public agencies concerned with waste and recycling have formed a coalition to collect information, listen to the public, and conduct long-term planning for the future of the regional wasteshed. The term "wasteshed" is used to describe an area where waste, much like water or air, does not adhere to boundaries. The regional wasteshed of Colorado's north Front Range is an area in and around Larimer County consisting of all solid waste generated by residents and businesses from the cities, towns, and unincorporated areas. Current coalition members represent Larimer County, The City of Fort Collins, The City of Loveland, and The Town of Estes Park.
A new urgency for collaborative planning has been spurred by the inevitable, upcoming closure of the Larimer County landfill (expected around 2024) and by predictions of continued regional population growth.
Research & Engagement
A preliminary Regional Wasteshed Planning Study was researched and prepared in 2016 to better understand how the region handles waste now and what opportunities and challenges exist in the future. The report provides detailed information for the Coalition and the public regarding the following subjects:
Current conditions within and around Larimer County

Existing transfer, disposal and processing infrastructure
Diversion practice and policy

Current and future waste handling

Summary of waste generation in the Wasteshed
Projections of waste generation increases (based on population growth)

Assessment of current infrastructure's ability to handle future waste
Feasible options for future infrastructure to manage garbage and recycling and encourage greater resource recovery
Approximate costs and benefits associated with possible infrastructure
Funding approaches for consideration
View the full Regional Wasteshed Planning Study
During the summer of 2016, more than 1,200 Larimer County residents responded to a survey regarding their recycling habits and attitudes. View the complete survey report
Survey responses and information from the Planning Study were used to design public forums, four of which were held in the fall of 2016 with the help of CSU's Center for Public Deliberation. View the forum raw data report
In 2017-2018 the Wasteshed Coalition more closely analyzed options for future regional infrastructure to better understand their potential economic and environmental impacts. 

A Stakeholder Advisory Group met seven times between May 2017 and September 2018 to provide input and review technical and policy information produced by the Coalition. Stakeholders were invited to participate from key sectors including: the business community, academia, regional governments, waste haulers and recyclers, boards and commissions, state agencies, and advocacy groups.
 
Coalition staff met directly with local waste haulers throughout the project to seek feedback and discuss impacts on their operations.
 
Four open houses were held in May of 2018 throughout the County to educate the public about the topic and seek input on the future of solid waste in the region.
Current Conditions & Projections
Population Totals (US Census, 2014)
| | | | | | |
| --- | --- | --- | --- | --- | --- |
| Larimer | Berthoud | Estes Park | Fort Collins | Loveland | Wellington |
| 324,122 | 5,807 | 6,165 | 156,480 | 72,651 | 7,185 |
Larimer County's homes and businesses currently generate as much as 400,000 tons of trash every year, and most of that trash ends up buried in public and private landfills. Population growth in Larimer County is rapidly increasing; the CO State Demography Office estimates that the county population will increase to 388,866 within the next ten years.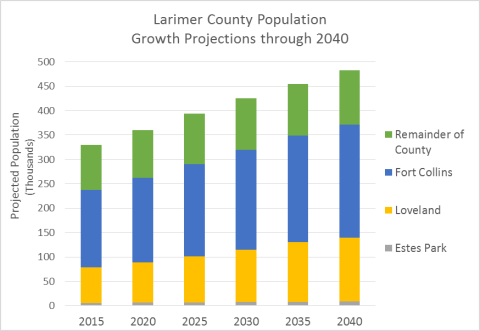 Solid Waste Production Rates
| | | |
| --- | --- | --- |
| Estimated Per Capita | MSW Generated | Source |
| United States | 4.4 lbs/day | EPA: Municipal Solid Waste |
| Colorado | 8.8 lbs/day | CDPHE: Annual Solid Waste Diversion Totals |
| Larimer County | 7 lbs/day | 2007 Larimer County Waste Composition Study |
At the current rate of trash generation – approximately seven pounds per person per day – the county could reach 500,000 tons of garbage generated per year within the decade. Approximately half of all waste generated in Larimer County is disposed of at the public landfill. A 2007 composition study of the landfill revealed that a third of what is buried could have been recycled and another third had the potential to be composted.
Regional Wasteshed Planning Coalition
In the north Front Range region, responsible solid waste management has long been a shared goal of the governing agencies within Larimer County. The sister cities of Loveland and Fort Collins collaborated with the County to open a jointly owned landfill (5887 N. Taft Hill Rd) in 1972 to ensure environmental regulations can be met for trash disposal in our region. With a closure date for the Larimer County landfill approaching (2024), these partners plus the neighboring community of Estes Park are once again working together, to evaluate waste management needs and develop guidance plans into the next 50-100 years.
The Coalition was formed in 2015 to address the future of solid waste management in light of the upcoming Larimer County landfill closure. The Coalition includes a Policy Advisory Committee (PAC) made up of elected officials from Fort Collins, Loveland, Estes Park, and Larimer County, and a Technical Advisory Committee (TAC) made up of staff members from the same entities.
The current members of the Wasteshed Coalition's Policy Advisory Committee are:
City of Loveland Councilmember, Leah Johnson (chair)
City of Fort Collins Mayor, Wade Troxell (co-chair)
City of Fort Collins Councilmember, Ross Cunniff
Town of Estes Park Mayor Pro Tem, Wendy Koenig
Larimer County Commissioner, Steve Johnson
The Coalition received $48,750 from the Colorado Department of Public Health and the Environment to support public outreach and the development of a Wasteshed report during 2016. The effort to move our region from an approach of solid waste disposal management to one of resource recovery and materials management will require ongoing engagement with stakeholders from across the region.
Wasteshed Planning Study/Public Engagement
2016
The Regional Wasteshed Coalition produced a comprehensive Regional Wasteshed Report and conducted considerable public engagement around the issues of resource recovery and materials management in the north Front Range, including a county-wide survey and four public forums in September.  This Regional Wasteshed Report was developed from months of research performed by the Wasteshed consultant in the 2016 Phase I Planning Study.  This study formed the basis for further evaluation of infrastructure options developed to address current and future solid waste demands within Larimer County.
Optimizing waste reduction and diversion efforts within Colorado's north Front Range through careful study, engagement, and collaboration between residents, businesses, and governments has the potential to greatly reduce our environmental footprint while also spurring innovation and job growth.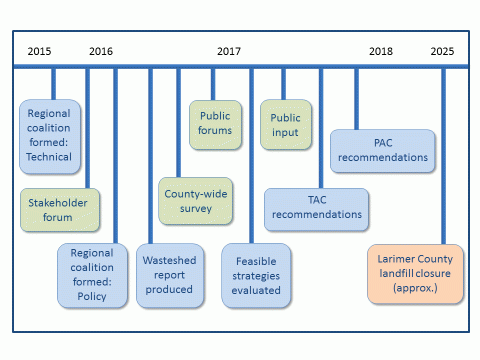 2017-2018
The Regional Wasteshed Coalition has initiated the second phase of its multi-year Regional Wasteshed Planning Study in 2017 to further identify and analyze options in developing a future regional solid waste infrastructure system with consideration of the information provided in the Phase I Wasteshed Planning study performed in 2016.  This Phase 2 study further refined the Phase I information and infrastructure options through waste projections, resource needs, capital costs, and sustainable return on investment analyses.  Through the Phase 2 process several project meetings with Technical Advisory Committee members and Policy Advisory Committee members were held, including Stakeholder engagement and public informational meetings.   The consultant selected for this study worked with the Technical Advisory Committee to determine a sustainable and achievable future regional solid waste infrastructure system that will be consistent with the Goals and Objectives of the Wasteshed. The recommendations identified in the draft solid waste infrastructure master plan were published in 2018 and can be reviewed online (above).
Get Involved
If you have feedback on the future of solid waste management in the greater Larimer County region, please let us know. Check back to this site for regular updates and sign up to receive project updates by requesting the "Wasteshed Planning Updates" newsletter here.
Click a photo to enlarge.