SHR
Inmate Mail and Phone Calls
Writing Letters
Inmates are provided paper and envelopes for writing letters and may purchase stamps through the commissary program.  Indigent inmates are allowed a limited number of stamps.  Inmates are not allowed to use personal stationary and/or stamps. Letters or cards are not accepted at the jail reception counter.  When sending mail to an inmate, only the inmate's name, address, and your return address are allowed on the envelope.  NO drawings, gang writings, stickers, lip prints, etc. are allowed on the envelope.  All mail must be sent via U.S. Postal Service and addressed as follows: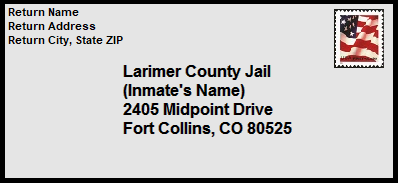 Phone Calls
Inmates are allowed to make collect and pre-paid telephone calls from their housing areas.  Telephone calls are limited to 15 minutes in duration to allow all inmates equal access to the telephone.  Times for telephone calls are limited based on the needs of the facility.  Inmates CANNOT receive incoming calls. If you receive unwanted telephone calls from an inmate, call the jail (970) 498-5200 and ask to speak to a supervisor.
Vendor Information for Prepaid Phone Service
Families can establish a ConnectNetwork account through the following channels:
For help setting up a ConnectNetwork account online, click here.
Phone Calls
ConnectNetwork's AdvancePay prepaid calling works by placing money on your phone number so that when your incarcerated friend/family member calls you, the funds are deducted from the balance on your prepaid account.
For more information on ConnectNetwork's AdvancePay prepaid phone service, click here.
Más información sobre el servicio telefónico prepago AdvancePay de ConnectNetwork, haga clic aqui.
Ways to Pay
ConnectNetwork offers several secure and convenient ways to fund your account:
Learn more about all of ConnectNetwork's funding options here.
Connect on the Go!
The ConnectNetwork mobile app provides quick access to our most popular deposit and messaging services. Using the app, you can manage your ConnectNetwork account, send messages, and make deposits into various accounts. It works just like your ConnectNetwork dashboard but from the convenience of your smartphone.