Report a pothole or other pavement issue
Report a pothole or other pavement issue on a Larimer County maintained road. This email address is not monitored after hours. For emergency issues after hours or on weekends, please contact Larimer County Sheriff's Dispatch at (970) 416-1985 or dial 911.
Patching
Structural Patching
Larimer County Road and Bridge Department has an extensive structural patching program. On an annual basis, contractors will be utilized to perform approximately 3200 tons of structural patching, while 600 tons of structural patching will be completed by in-house crews. A structural patch will typically consist of cutting and removing the failed area, including subbase if needed, and then it will be replaced with new asphalt. This is a maintenance tool that allows repairs to be focused on isolated failures in an otherwise acceptable road to prolong the life of the entire roadway. If these repairs are not performed in a timely manner, the failed areas would continue to expand requiring a more costly repair.
Pot Hole Patching
Potholes are small structural failures in an asphalt surface. Potholes are created when moisture penetrates an asphalt surface and saturates the underlying support soils. Traffic then fatigues and cracks the poorly supported asphalt surface in the affected area. Continued traffic action ejects both asphalt and the underlying soil material to create a pothole in the pavement. 
If potholes are not repaired in a sufficient amount of time, water continues to degrade the pavement requiring a more robust and expensive structural patching repair.
The Road & Bridge Department uses two different types of material to fix potholes; cold mix asphalt and injection patching. Placing cold mix asphalt consists of cleaning debris and filling and compacting the cold mix asphalt in the pothole. Injection patching consists of cleaning debris and spraying a combination of emulsified asphalt and aggregate in the pothole
Crack Sealing
Larimer County Road & Bridge places approximately 95,000 lbs of crack fill material on roughly 60 center line miles of roadway annually. Crack sealing is a very cost effective maintenance tool and helps prevent moisture from penetrating the pavement surface and causing damage. If moisture remains in pavement cracks in winter months, it will freeze and thaw creating larger cracks and potholes. During the warmer months if moisture resides in cracks, traffic will force moisture into the subbase of the road creating a soft spot as well as strip oil off of the aggregate, both of which will eventually become a pothole.
Larimer County utilizes hot-poured, rubberized joint sealant to seal cracks in paved surfaces. Cracks are cleaned, heated/dried and sealed to a depth twice the width of the crack.
Seal Coat
Seal Coat consists of spray applied products that help rejuvenate or seal and protect the surfaces of recently paved roads.
Seal coat rejuvenate application typically occurs one (1) year after the overlay or reconstruction of a paved road. This application is used to "rejuvenate" the surface of the asphalt to replenish light oils and keep the surface pliable and prevent surface cracking.
Seal coat surface sealing application protects the surface of asphalt pavements from degradation caused by sun and moisture. This protective barrier extends the life of middle aged pavements by reducing oxidation caused by the loss of light oils and hydraulic stripping of fine aggregates caused by climatic and traffic conditions. 
Overlay
Larimer County is divided into four (4) areas for the Overlay program, as displayed by the map above.
Larimer County roads are routinely visually inspected by our staff, additionally we utilize a consultant who specializes in infrastructure management to do a more in-depth inspection of the road annually. The consultant's vehicles are equipped with lasers, cameras and personnel that collect information on ten different types of pavement distresses, such as cracking, pot holes, allegations and pavement rutting. This data is then uploaded into a pavement management program and a pavement condition index (PCI) is calculated for each road segment. PCI's range from zero (0), which is a failed road, to one hundred (100), which is excellent. Larimer County's pavement management strategy is to maintain our paved road network with an overall average PCI between 75 and 85. This gives the Larimer County Pavement Management Team a potential list of roads for future overlay.  These roads will then be further visually inspected by Larimer County staff to help determine the greatest need.
When selecting roads to be overlaid, we do not necessarily select the roads with the lowest PCI scores. Best pavement management practices dictate that the most cost effective time to overlay a road is when PCI's are in the range of 55 to 75. Roads with PCI's below 50 are generally deteriorated to a point that an overlay is not an effective strategy. Depending on cost and budget, Larimer County will typically overlay between eight (8) to twelve (12) miles of road annually.
Sweeping
To combat excess material that collects on paved roads, Larimer County will sweep roads with paved shoulders four foot or wider and sections of road with curb and gutter. Roads with four foot shoulders or wider or curb and gutter will typically be swept two times per year. All other roads are swept on an as needed basis.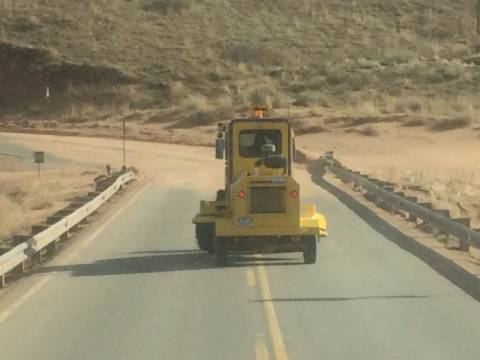 A side-cast broom cleans up sand blown on CR 31 from the Carter Lake swim beach after high winds.
Shouldering
Roadway shoulders generally encompass an area one to four feet wide adjacent to the edge of a paved road and provide a transition between the paved surface and the surrounding ground.  These shoulder areas are generally constructed of an aggregate material and are important for the following reasons:
Well maintained shoulders enhance roadside safety by ensuring there is not a sharp drop-off at the edge of the pavement that can catch a vehicle tire and cause loss of control during a roadway departure.
Well maintained shoulders provide safe access to roadside areas for disabled vehicles.
Well maintained shoulders provide visual delineation of the roadway edge.
Well maintained shoulders provide lateral support for the edge of the pavement and protect it from degradation.
Well maintained shoulders protect the pavement from the intrusion of water and subsequent loss of vertical support.
Shoulder maintenance is a continual process and a task that Road and Bridge works on during the winter months each year.  A newly maintained shoulder immediately begins to degrade as damage is caused by snow plow activity, vehicle traffic (especially in corners), erosion from rain storms, etc.
Approximately 100 lane miles of shoulder maintenance is completed annually.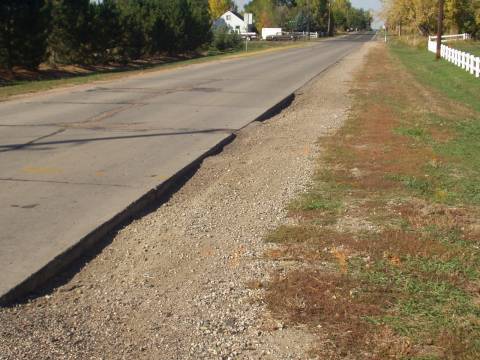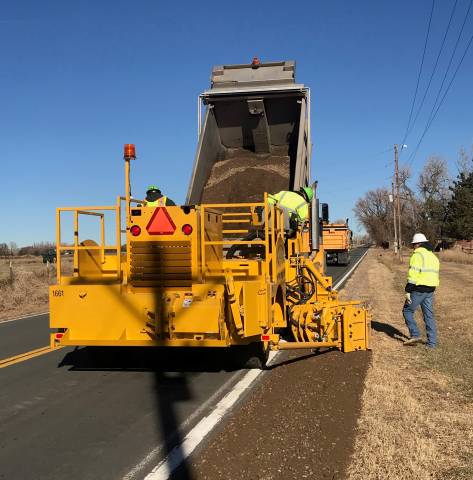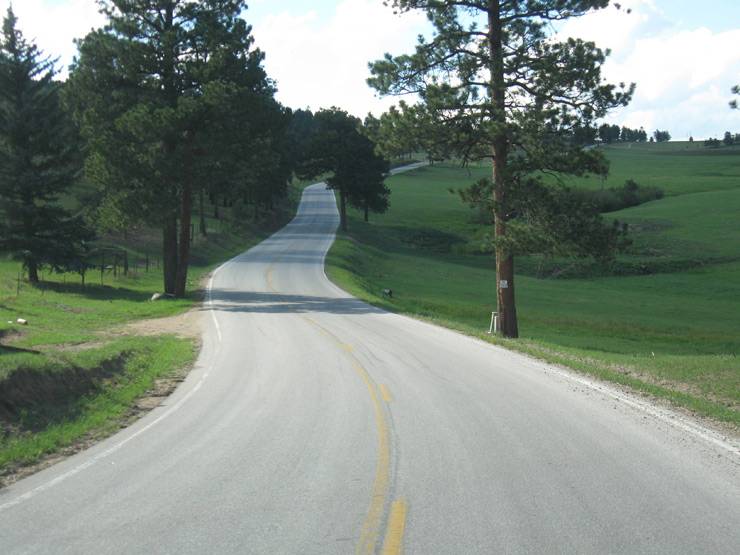 CONNECT WITH US
ROAD & BRIDGE DEPARTMENT
ADDRESS: 2643 Midpoint, Suite C, Fort Collins, CO 80525
HOURS: Monday-Friday, 7:00am-4:30pm
PHONE: (970) 498-5650
EMAIL: rab-admin@co.larimer.co.us
"Per the Americans with Disabilities Act (ADA), Larimer County will provide a reasonable accommodation to qualified individuals with a disability who need assistance. Services can be arranged with at least seven business days' notice. Please email us at rab-admin@co.larimer.co.us or by calling (970) 498-5650 or Relay Colorado 711. "Walk-in" requests for auxiliary aids and services will be honored to the extent reasonable but may be unavailable if advance notice is not provided."
Facebook
Twitter
YouTube