Road and Bridge Department
Report an issue
Report an issue on a Larimer County maintained road, bridge or drainage structure. 
This email address is not monitored after hours. For emergency issues after hours or on weekends, please contact Larimer County Sheriff's Dispatch at (970) 416-1985 or dial 911.
---
---
Highlights
County Road 37 (Red Mountain Rd) Resurfacing Project
SCOPE OF WORK
The Road and Bridge Department is working on a project to improve and surface CR 37 (Red Mountain Rd) in its entirety from the Colorado/Wyoming state line to US Highway 287. This section of road is currently a native surface and will receive a six-inch layer of aggregate base course. The project will include improvements to the roadside drainage, replacement of several drainage culverts, minor width and horizontal alignment improvements along with the import and placement of approximately 50,000 tons of aggregate base course. 
SCHEDULE
Road and Bridge crews began work on the project in August of 2019, beginning mostly with culvert installations, replacements and drainage improvements. Due to the need to complete our summer chip-seal program, the work on CR 37 has been on hold. Work resumed the week of August 10th. Final completion is scheduled for spring 2021.
The County was on track to advertise the project for bids this spring after a full Environmental Assessment but FEMA just recently defunded the greater reconstruction project and will fund only improvements to bring the road back to pre-flood conditions plus some undetermined mitigation work. Revised plans will be presented to FEMA in May for review.  It's unknown when construction may begin.
Maintenance Facilities
Estes Park Facility
543 Elm Road
Estes Park, CO 80517
Laramie River Facility
21137 CR #103
Glendevey, CO
(mail: Jelm, WY 82063)
Livermore Facility
124 West CR 74E
Livermore, CO 80545
Loveland Facility
2205 East SH #402
Loveland, CO 80537
Stove Prairie Facility
17290 Rist Canyon Rd
Bellvue, CO 80512
Waverly Facility
241 W. CR #70
Waverly, CO 80549
Fast Facts
FAST FACTS
ROADS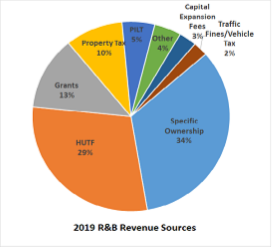 384 Miles of  paved roads (48%)
419 Miles of non-paved roads (52%)
101 Miles of Subdivision Roads
Average Vehicle Miles Traveled on Larimer County Roads
Paved Roads = 314.9 Million VMT (91%)
Non-paved Roads = 29.6 Million VMT (9%)
SNOW & ICE CONTROL
686 Mainline miles plowed
89 Subdivisions = 86 miles plowed
4,967 tons of ice & traction control material utilized
Average number of man hour per year on snow events = 9,513 hours
STRUCTURES & SIGNS
217 Major structures (>20 ft.)
481 Minor structures (<20 ft.)
4,000+ Cross culverts
10,390 Sign mounts w/ 11,964 sign panels
Road & Bridge Mill Levy (2019) = .937
$24.00 = Road & Bridge portion of property tax on a residential structure valued at $350,000 (with only $14.88 retained by Larimer County).
Other important links
---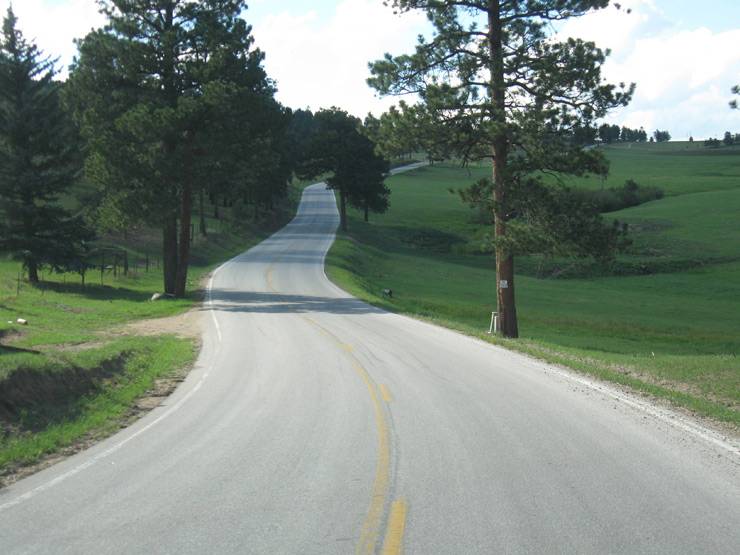 CONNECT WITH US
ROAD & BRIDGE DEPARTMENT
ADDRESS: 2643 Midpoint, Suite C, Fort Collins, CO 80525
HOURS: Monday-Friday, 7:00am-4:30pm
PHONE: (970) 498-5650
EMAIL: rab-admin@co.larimer.co.us
"Per the Americans with Disabilities Act (ADA), Larimer County will provide a reasonable accommodation to qualified individuals with a disability who need assistance. Services can be arranged with at least seven business days' notice. Please email us at rab-admin@co.larimer.co.us or by calling (970) 498-5650 or Relay Colorado 711. "Walk-in" requests for auxiliary aids and services will be honored to the extent reasonable but may be unavailable if advance notice is not provided."
Facebook
Twitter