Rural Land/Property Resources
Important topics related to rural lands and rural living.
Code of the West and Property Buyers Checklist
Roads
Roads in Larimer County can either be public or private. Almost all major roads, such as interstates, highways, county roads, and city streets are public roads. However, there are many private roads in Larimer County. Some of these private roads may be blocked from access or some may be marked as private. Please respect the posted signs.
Road Access
New access (driveway) to a road may require a permit and likely has standards to meet.  
If need to access a state or federal highway, contact the Colorado Department of Transportation.
If need to access a County Road, contact Larimer County Engineering Department
New driveways onto subdivision streets may also be regulated and their location may be pre-determined. 
If you are purchasing property, you will want to make sure there is legal access to that property. Legal advice should be obtained regarding legal access.
If you own property and need to cross another property to access a main road, you will likely need to obtain an easement across that property.
Road maintenance
Roads can be maintained by a variety of agencies. Just because a road is a public road does not mean it is publically maintained. Many county subdivision roads are public roads but are privately maintained. Potential property owners are encouraged to contact Larimer County Road and Bridge to find out how the roads are maintained and encouraged to research the costs involved in that maintenance.
Road maintenance in rural areas will likely be done at different intervals than in an urban area. The same applies to snow plowing and dust control. Potential property owners are encouraged to research the maintenance schedule to understand what and how often maintenance is done.
Easements
An easement is an interest in land owned by another person that entitles the holder of the easement to certain specified uses within the easement area. The use of the easement area is controlled by the terms or details of the easement, and there may be restrictions on other uses within that area. The area covered by the easement is usually clearly defined, and the easement is attached to the property deed so that it will persist even when the property is transferred or sold. People who are researching the purchase of new property should have the title researched to learn more about any outstanding easements which may restrict the use and enjoyment of the property. It is also important for you to know where the rights-of-ways or easements are located on your property to avoid putting buildings, structures or landscaping within those areas. Anything built in the easement or right-of-way can be removed by the person holding the easement without permission and at no expense to them.
It is also important to understand where neighboring easements may be located. It is possible that some type of easement may be located directly next to your property that could affect your quality of life, such as an access easement that could create traffic next to your property, or a pedestrian easement where people could be walking or riding next to your property. Potential property owners are encouraged to research details on surrounding properties to learn more about these types of issues before buying property.
Easements can be created by several different methods:
Part of a recorded deed or easement document
Recorded as part of a subdivision plat
Easements can be defined in a variety of ways:
specifically described by a legal description,
a general description,
open ended, indefinite, or a "blanket" easement.
If you have questions about what easements exist on your property, the Planning Department may be able to assist you, particularly if you are within a platted subdivision. If you are not in a platted subdivision, checking your title work may provide you information about the easements and right-of-way on your property.
Easement Types
There are several types of easements:
Road/access: A road or access easement allows access across land that is not under the same ownership. This is used when one property owner needs to get across land that is owned by someone else.
Right-of-way: Another type of easement usually for the purpose of a public road or public utility. A right-of-way is an area used for the roadway itself, along with other things like sidewalks, shoulders, roadside drainage ditches, and utilities.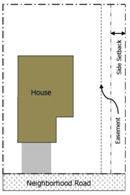 Utility: A utility easement is an easement which gives a utility the right to use and access a property. The easement allows a utility or government agency to locate and maintain utilities, pipelines, telephone and electric cables, and towers on private property, within the easement boundaries.
Drainage: These are typically used to ensure that the flow of water is unimpeded by structures or other changes to the land. Drainage easements generally allow access to a certain part of a property to a third party, such as a municipality or Homeowners Association, for the purpose of maintaining drainage. This easement may include a culvert drain which feeds into a drainage system or simply state that runoff needs to be allowed to flow freely over an area of the property.
Pedestrian and/or equestrian: An easement that allows people (on foot or on horseback) to access and use a property in a designated area.
Water
Wells are the primary source of water in rural areas. Some areas near cities and towns may be served by public water supplies. Larimer County does not provide water or regulate water rights or on-site wells. Colorado water rights are administered by the Colorado Division of Water Resources, also known as the Office of the State Engineer. Any questions related to on-site wells, ponds, capturing rain water, diverting water from a stream, etc. should be directed to the Division of Water Resources. Questions about water from public water suppliers should be directed to the Utility Service Providers 
Sewer
Sewer service for new and existing development is generally provided in one of two ways: through public sewer provided by a Utility Service Providers or by individual on-site septic systems. 
In general, pubic sewer is available within city and town boundaries and in the more developed urban growth areas surrounding Fort Collins and Loveland. Individual on-site septic systems are more likely in the rural areas.
The Larimer County Department of Health and Environment issues permits to install on-site septic systems in areas where public sewer is not available. The most common system consists of a septic tank followed by a soil-absorption system (sometimes called a leach field). More information about on-site septic systems and the permitting process is available on the Larimer County Health Department.
Utilities
Utility services in rural areas may not be available or may not operate at the same levels as they do in more urban areas. There are various Utilities Check List that serve rural properties in Larimer County, providing utility services such as electricity, natural gas, propane, water, phone, cable TV, and trash pickup. The Utilities Check List may vary depending on the location of the property. We encourage potential property owners to research what services might be available, the rates for those services, and, potentially, the costs for extending service lines to the building site on the property.
Mineral Rights/Mining
Oil and gas and other minerals are typically owned as a separate and severable mineral right. This is a separate property right and may or may not be tied to the surface owner's rights. This also allows the owner of the mineral interest to access the surface to extract the mineral. A mine or well could be placed on a property even if the mineral owner is not the surface owner, within certain limits. When buying property, it is prudent to determine if the property and mineral rights are severed or tied together. This can be done through a title search or research in the Clerk and Recorders Office.
Mining occurs in Larimer County for a variety of resources, most commonly sand, gravel, sandstone, and limestone. Sand and gravel mines are open pit mines that are usually found in and along the streams and rivers in the county. Sandstone and limestone are mined along the hogbacks at the edge of the foothills. These stone quarries are also open mines, and they tend to be longer life mines that may exist for many years. All mining, surface or subsurface, is regulated locally through a zoning process called Special Review. The County permitting process looks at the both the technical issue of the mine and its impacts, as well as the appropriateness or compatibility of the operations. Most mines also require review and permitting by the Colorado Division of Reclamation, Mining, and Safety.
Oil and gas extraction is not currently regulated by Larimer County's Land Use Code, instead State regulations provide the requirements for this industry and are regulated by the Colorado State Oil and Gas Commission and the Colorado Division of Reclamation, Mining, and Safety.
Natural Hazards
Natural hazards can exist almost anywhere, and property owners should be aware of the natural features and potential hazards that may be present on their property and in their area. Hazards may include things like expansive soils, flooding, rock-fall, and wildfire. Property owners may need site specific evaluations by qualified professionals to determine potential hazards and mitigation methods. General information about natural hazards is available in the Planning Department.
Addressing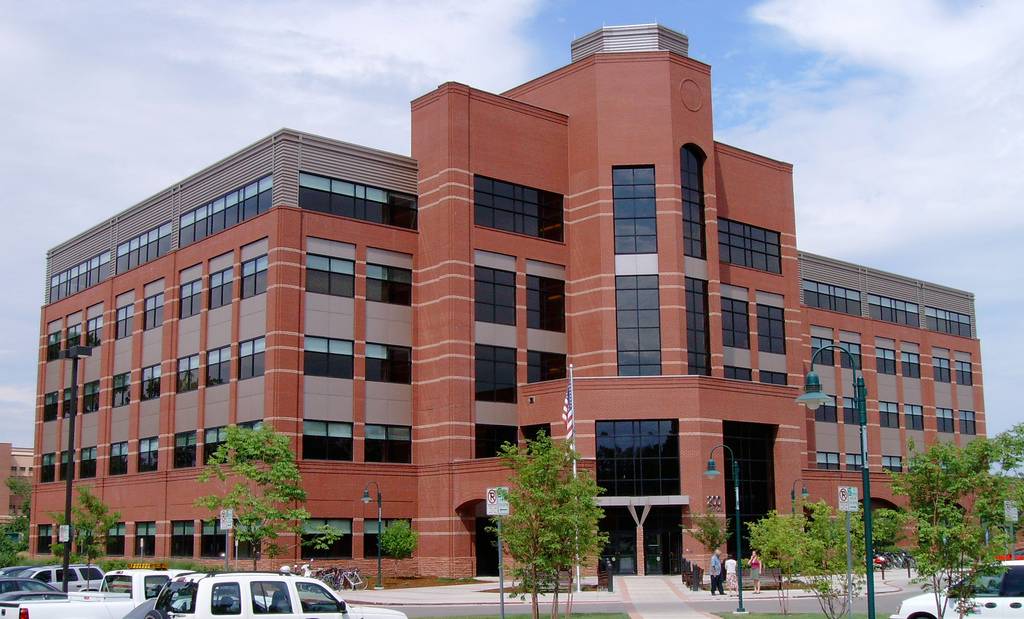 Contact Planning Department
Larimer County Planning Department
200 W. Oak Street, Third Floor, Fort Collins, CO 80521
On-call Planner:
(970) 498-7679
Email Planning Department