Volunteering with Natural Resources
Join our volunteer team to help care for Larimer County's parks and open spaces. Volunteers range in age from the very young to the still young at heart and everyone in between, all sharing one thing in common — a love for Colorado's natural landscapes and protected areas. We could not accomplish all that we do without help from dedicated volunteers. Through a variety of projects and programs, we can be the link connecting you to both the natural world and your community. 
Current Volunteer Opportunities
Seeking friendly, out-going campground hosts for Hermit Park Open Space!
Spend your summer in beautiful Estes Park Colorado. Be a Campground Host at Hermit Park Open Space just 10 minutes from downtown Estes Park and enjoy the beauty of the Rocky Mountains with easy access to amenities. See below for a full description of the position and click the photo above to fill out an application.
Campground Host
Larimer County, located along the gorgeous Front Range offers a unique opportunity to live and volunteer at one of our beautiful campgrounds on a seasonal basis. Unpaid campground host slots are available at Carter Lake, Horsetooth Reservoir, Flatiron Reservoir, Pinewood Reservoir, and Hermit Park Open Space near Estes Park. All slots are full hook-up. Campground host training begins early May and hosts stay through the end of September at most locations. If you love the outdoors and scenic places, come join us.
Currently recruiting for a pair or couple at Hermit Park Open Space
Apply to be a volunteer Campground Host
Parking Assistant
Parking Assistants support the coordination of traffic flow at boat ramps & dock area parking. They ensure visitors have a great recreation experience by guiding visitors in the appropriate direction, answering questions, encouraging courtesy towards other visitors, and inspiring minimal impact on our beautiful reservoirs. Volunteers assist in keeping operations running smoothly during summer weekends & holidays at Carter Lake or Horsetooth Reservoir.
Litter Cleanup Team
Help keep your parks and open spaces beautiful and more sustainable by picking up trash. Litter cleanup is a constant need and a great way to give back to the Larimer County natural spaces you already love. Once a month, head out to your favorite open space or try a new one each time. Every little bit helps, even picking up micro-trash! Volunteer on your schedule, get excercise, and be outdoors while being a steward of our natural resources. Opportunities available for all ages and abilities.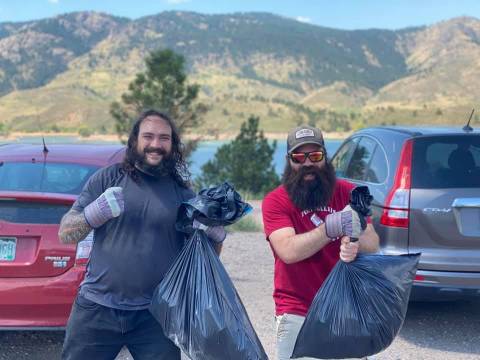 Volunteer Naturalist
Interested in inspiring curiosity for the natural world in people of all ages? Love spending time outdoors? Larimer County Natural Resources prepares Volunteer Naturalists to teach school groups, lead hikes and interact with the public on Larimer County's parks and open spaces. Naturalists also get the opportunity to experience nature and wildlife first-hand. No experience in the fields of environmental education or ecology is required. Volunteer Naturalists must attend an in-depth training, pass a background check and have transportation.  
We anticipate Naturalist Training will take place in the Spring of 2021. Please check back for updates. 
Volunteer Naturalist Assistant
Love interacting with the public and being outdoors? Join our volunteer team as a Naturalist Assistant to lend a hand during our year-round educational programs. Help our Volunteer Naturalists and Natural Resources staff members during evening campground programs, public hikes, outreach tables, school field trips and more. Opportunities to help are available on weekdays, weekends and evenings and take place at a variety of our parks and open spaces. 
Project Team Member
As a project team member, you will help improve and protect our natural areas. All you need to bring is your enthusiasm and willingness to work outdoors. Projects include trail building and renovation, wildlife habitat improvements, tree and shrub planting, fence construction and repairs, weed control and forestry management. This is your chance to help safeguard our priceless areas now and for future generations while gaining new skills and sharing your love of nature with others just like you. Projects and dates vary with half day, full day, weekday and weekend projects. 
Group Volunteer Opportunities
Group Volunteer Projects are a great way for your community or corporate group organization to team-build, have fun, get outside, and give back to your community. Make a difference by helping us pick up trash, maintain trails, pull weeds, maintain park amenities, plant trees, and more. 
To request a Group Volunteer Project, select the Request a Group Volunteer Project link at the top of this page. To complete the request form, please create a free account in Offero (name, email, and phone number are all that is required). 
COVID-19 Requirements
All volunteers must wear a mask. 
Volunteers must stay at least six feet away from others. 
Projects will be limited to a maximum of 10 people. 
Litter cleanups may accommodate up to 30 people as it is easier for groups to spread out. 
The comfort level around carpooling to the project site is determined by your organization. We recommend carpooling only for family groups. 
Know Before You Request
Group Volunteer Projects are dependent on the needs of the department. 
Six (6) weeks notice is preferred. A minimum of two (2) weeks notice is required. 
A "group" has a minimum of five (5) volunteers. 
Saturday & Sunday projects may be available on occasion if requested. 
Projects are typically scheduled 9 am - 12 pm or 1 pm - 4 pm. 
Dogs or other pets are not allowed. 
If applicable, parking passes will be provided. 
If no project is available, your group can schedule an Independent Litter Cleanup. 
Independent Litter Cleanup
Help us keep our open spaces beautiful and sustainable by picking up litter. Independent cleanups are intended for groups who wish to organize themselves and volunteer on their own schedule. We are looking for volunteers to helps us clean up trails, parking lots, and day-use areas. Best times are Sunday afternoons or Monday - Thursday mornings. However, with Independent Litter Cleanups you can schedule a time that works best for your group. Litter pick up materials provided upon request. 
Volunteer Ranger Assistant (VRA)
 As a Volunteer Ranger Assistant, you will serve as an ambassador for natural areas and open spaces by promoting outdoor safety and awareness and answering visitor questions. Get exercise, fresh air and quiet time all while giving back to your community. You can volunteer on foot, ride your bike or ride your horse. The schedule is flexible however volunteers are needed most on weekends during the summer. 
The Volunteer Ranger Assistant (VRA) program was created to integrate the community in promoting visitor safety and enhancing the enjoyment of the outdoors. Since 2008, Larimer County and the City of Fort Collins have collaborated on this important program. Interested volunteers must apply. If selected for this program, volunteers will be required to complete a mandatory training and pass a background check. 
NOTE: We are not currently recruiting for the 2021 Volunteer Ranger class.  Please check back for updates. 
Volunteer Photographer
Your images can help tell the story of Larimer County's parks and open spaces. Selected photographs are used in annual reports, calendars, promotional materials, newsletters, slideshows and where a thousand words get boiled down to a single picture.
Learn more about becoming a volunteer photographer 
Boat Patrol Assistant
Boat Patrol Assistants support Larimer County Rangers during their boat patrols on summer weekend days at Horsetooth Reservoir and Carter Lake. Volunteers in this position will be working directly on a boat with a Ranger; must be an experienced boater and swimmer, must be prepared for a fast-paced and unpredictable environment and enjoy working with the public. This is a physically demanding but rewarding position. 
This volunteer role is more than going for a boat ride, its an opportunity to utilize your boat & water safety skills and encourage visitors to be good stewards of our reservoirs. Application and interview required.
Boat Patrol Assistant shifts are 12:00 - 4:00 pm on Saturdays, Sundays, and holidays - Memorial Day weekend to Labor Day weekend. Volunteers must commit to a minimum of 10 shifts per season.