Update 5/18/2021: Reservable group pavilions through larimercamping.com are currently available on a seasonal basis at Hermit Park Open Space, Horsetooth Reservoir Sunrise Day Use area, Flatiron Reservoir, Lions Open Space, and Carter Lake South Shore.
The South Bay Group Pavilion at Horsetooth is NOT RESERVABLE in advance. It is for day-use only on a first come, first served basis. 
Amenities
All pavilion hours are 8 AM to 9 PM
All pavilions have picnic tables and charcoal grills. All but two (Sunrise and Lions) have electricity. Hermit Park Open Space pavilion has electricity by generator so it might be a teensy bit noisy.
Volleyball court and horseshoe pits are available at Flatiron Reservoir, South Shore at Carter Lake (bring your own sports equipment: net, balls, horseshoes, etc.) and Hermit Park Open Space (some equipment is available for you at Hermit.)
Portable heaters for cold weather months are allowed, but not provided.
South Bay Group Pavilion at Horsetooth Reservoir - 150 person maximum capacity (Not reservable)
| | | |
| --- | --- | --- |
| | | |
The South Bay Group Pavilion at Horsetooth is NOT RESERVERABLE in advance. It is for day-use only. 
Hermit Park Open Space Group Pavilion, Estes Park - 150 person maximum capacity, $500
This covered pavilion is in the heart of Hermit Park Open Space and adjacent to a large 2.5 acre meadow. The meadow, which is filled with aspen groves, ponderosa pines, and often wildflowers, is a beautiful wedding ceremony site offering scenic views and stunning rock formations for photo opportunities and outdoor group gatherings.
The pavilion features stone wrapped columns, picnic tables, a gas fire pit, and a large propane and charcoal grill with catering space for up to 150 people. Electricity is available through a generator upon request, and potable water is available at the nearby Bobcat Campground. Vault toilet restrooms are located approximately 150 feet away from the pavilion in the parking lot.  A sand volleyball court and horseshoe pits are also available. Other amenities: 20 picnic tables, small sink with counter top, and one handmade log arch (if requested). Additional chairs are not available through the park.
The 4-mile round trip Kruger Rock trail, located directly across from the meadow area, is a moderate hike with spectacular views of the Continental Divide. Nearby cabins and campsites are available to reserve at the park as well. (Visit this web page for more information about Weddings in Estes Park.)
Make a reservation today at www.larimercamping.com or call 970-577-2090 for more information. (Pavilion reservations at Hermit Park can be made up to 24 months in advance.) Please stop by and check out the amenities, or email us at parksoffice@larimer.org with your name, event type, date, phone number, and any questions. 
Click an image to enlarge.
South Shore Group Pavilion at Carter Lake - 100 people max capacity, $50
Flatiron Reservoir Group Pavilion - 50 people max capacity, $50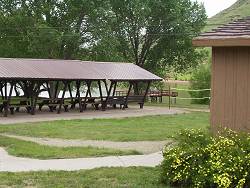 Sunrise Group Pavilion at Horsetooth Reservoir - 25 people max capacity, $25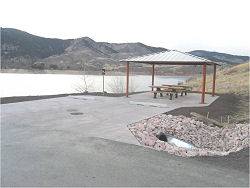 Lions Open Space Group Pavilion, Laporte - 50 people max capacity, $25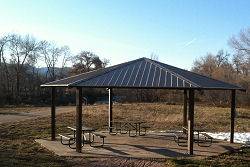 Details & Rules
All Natural Resources Regulations apply, including but not limited to no noise disturbances to other visitors, no camping in pavilion areas, no off road parking.
Alcohol: Not allowed at pavilions. Only allowed at individual campsites or on a boat. No kegs and no glass. No alcohol allowed in day use or swim beach areas.
Catering: You may bring your own caterer to any pavilion. Caterers, food trucks, and rental companies delivering to your event do not have to purchase daily entrance permits, however, the vehicle must be identified as a business by logo, or by business card placed on the dashboard. One Food Truck is allowed to park at the Hermit Park Group Pavilion during events.
Changing Rooms: Available only at Horsetooth Reservoir South Bay which has changing rooms and outside showers.
Decorations & Games: Only temporary decorations may be used: no staples, nails, tape or permanent markings. No flaming lanterns, jumping castles, dunk tanks, pony rides or anything that may cause damage to the natural resource or disturbances to other visitors.
Entrance permits: Daily entrance permits are required on all vehicles entering the park or open space for an event at the pavilion. (The pavilion reservation is not an entrance permit.) The only exception is Lions Open Space, which does not have an entrance fee and catering needs (see above.)
Music: Amplified music is allowed at Carter Lake South Shore, Flatiron Reservoir, and Horsetooth South Bay. Acoustic music is allowed at all pavilions and preferred at Hermit Park Open Space.
Parking: All vehicles must be kept in the established parking areas, which are public, making them neither guaranteed nor reservable. Carpooling encouraged.
Pets: Totally fine as long as leashed and attended.
Photo sharing & consent: We'd love to share your day on our website! Please post photos online. Additionally, Larimer County photographers may sometimes photograph events: Applicant consents to allow photographer on behalf of Larimer County to attend and photograph event. Photographs taken by Larimer County at event may be used in marketing, informational and educational materials, without compensation or further permission from the applicant, including the images of event attendees, including minors. Applicant shall notify attendees that Larimer County may take and distribute photographs of event and attendees.
Public access: The group pavilion and associated amenities are reserved for your use. However, the public cannot be excluded from other areas surrounding the pavilion, including restrooms, roads, parking lots, swim beaches, trailheads, etc.
Restrooms: Horsetooth South Bay has a flush toilet. All other pavilions have clean, vault toilets.
Setup, teardown, cleanup: Setup must occur within the day you have reserved, beginning no earlier than 8:00 AM. Teardown and clean-up must be completed by 9:30 PM of the day you have reserved.
Tents & Chairs: Event tents are allowed at Carter Lake South Shore and Hermit Park Open Space. There is no insurance requirement. You may bring your own chairs to meet your needs (for example, for weddings in the meadow at Hermit Park Open Space). Event tents are not allowed at Flatiron, South Bay, Sunrise, and Lions Open Space.
Wedding Exit Tosses: Flower petals and bubbles are okay; fake flowers, fake flower petals, seeds and rice are not.